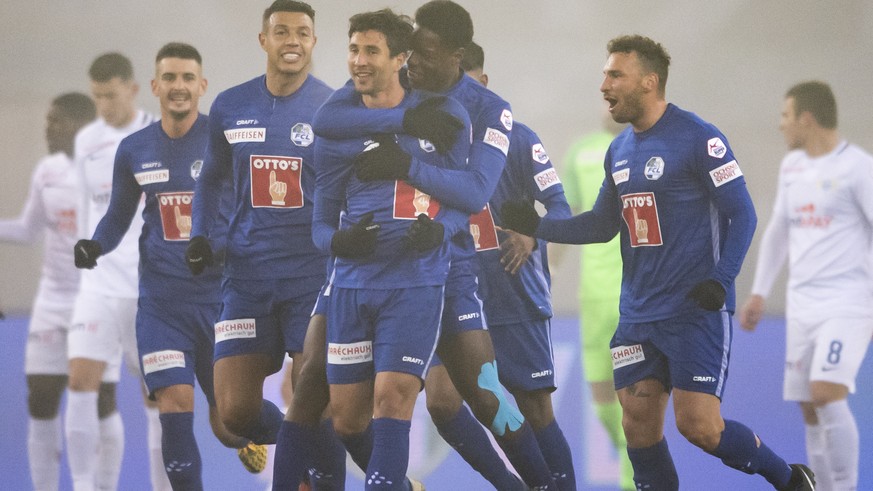 The FCZ fans show a beautiful choreo in honor of the late Fritz Künzli before the game. Image: KEYSTONE
Celestini debut succeeded! Lucerne turns around in 14 minutes – Servette beats Xamax
FCZ – Lucerne 2: 3
Away against FC Zurich, who had won six of the previous seven games, Lucerne scored a remarkable 3-2 win in the first match under coach Fabio Celestini.
In all of their 18 games of the autumn round, Lucerne had scored only four goals in the first half. On the Letzigrund they turned 0: 1 into 3: 1 between the 13th and the 27th minute. If you add the 2-1 home win against Basel immediately before the winter break, the Central Swiss have now prevailed against two far better-ranked opponents.
If the Lucerne team had some luck with the three early goals scored by Idriz Voca, Ryder Matos and Francesco Margiotta, they earned that luck later in the game with a convincing, sacrificing performance that seemed to bear the new coach's signature – even if it did such an assessment may be premature. It was surprising to the outside world that Celestini let the unerring attacking player Pascal Schürpf, one of Lucerne's most consistent, sit on the bench until the 66th minute.
The luckiest player on the pitch was probably Ashvin Balaruban. The 18-year-old defender had just received his first professional contract from the FCL this week. Celestini, brought into distress by various absences, immediately put him in the starting lineup on the left. Like a schoolboy who is almost there, Balaruban went under a long ball from Mirlind Kryeziu in the 5th minute. With the grotesque mistake, he unintentionally launched Marco Schönbächler, who brought the FCZ alone in front of the Lucerne goal with little effort. The youngster's lapsus ultimately had no effect.
No, the Letzigrund wasn't full today. But at least 8623 spectators came. Image: KEYSTONE
With its latest results, the FCZ is a sphinx. The last two home games against Servette (0: 5) and Lucerne were lost, but in between was the 3: 1 victory for the strong youngsters in St. Gallen. In the match against Lucerne, however, the Zurich team did not disappoint. They quickly caught on from the opponent's three goals and came close to equalizing after 78 minutes after Blaz Kramer's connecting goal. In the 91st minute, defender Nathan, who had missed a great chance in the first half, missed the 3: 3 with a header by a few centimeters.
Zurich – Lucerne 2: 3 (1: 3)
8623 spectators. – SR Schnyder.
Gates: 5. Schönbächler (Mirlind Kryeziu) 1-0. 13.Voca 1: 1. 25.Matos (Margiotta) 1-2. 27. Margiotta (Males) 1: 3. 78. Kramer (Kololli) 2: 3.
Zurich: crusher; Rüegg, Nathan, Mirlind Kryeziu, Kempter (83rd winter); Janjicic (46th Mahi), Domgjoni; Tosin, Marchesano (57. Kololli), Schönbächler; Chandler.
Lucerne: Miller; Sidler, Knezevic, Lucas, Balaruban (52nd Grether); Matos (71st Mistrafovic), Voca, Ndenge, Ndiaye; Males (66th prospect), Margiotta.
Remarks: Zurich without Sohm (closed), Pa Modou, Charabadse (both injured) and Omeragic (sick). Marchesano injured retired. Lucerne without Kakabadse, Schulz and Binous (all injured) and Schwegler (sick). Super League debut of 18 year old Ashvin Balaruban. Cautions: 7th Domgjoni (foul), 20th Ndiaye (foul), 29th Mirlind Kryeziu (foul). 34 Balaruban (foul), 45 Kramer (foul), 46 Nathan (foul), 74 Ruegg (foul), 80 Sidler (foul).
Fabio Celestini wants to go up with the FCL. Image: KEYSTONE
Xamax Servette 1: 2
At the beginning of October, Servette gave a 2-0 lead in Neuenburg and drew 2: 2. This time the Servettiens managed another 2-0 lead on the Maladière and won 2-1.
Koro Koné's 1-0 after just 14 seconds and Varol Tasar's 2-0 immediately before the break – both goals were prepared by the outstanding Miroslav Stevanovic – were the fruits of an unusual efficiency of the coach team. The Servettiens needed only three real chances for the preliminary decision. With six wins, the Geneva team is the most successful team in the last seven Super League rounds.
Neuchâtel Xamax added another batch to its line of unsuccessfulness. Also in the last rounds, Neuchâtel scored only three points – three draws. In the first half, four different players from coach Joël Magnin's team developed four good goals, but in the end they were all missing a few centimeters.
Shortly after the break, Janick Kamber scored the 1-2. But a little later Kamber put a damper on his team's hopes. After a serious foul, he was right to see the red card. Even when outnumbered, the Xamaxiens came close to 2-2. In the 88th minute, Raphaël Nuzzolo missed a chance that he does not normally miss
Neuchâtel Xamax – Servette 1: 2 (0: 2)
5744 spectators. – SR Jaccottet.
Gates: 1. (0:14) Koné (Stevanovic) 0: 1. 44.Tasar (Stevanovic) 0-2. 47. Kamber (Tafer) 1: 2.
Neuchâtel Xamax: Walthert; Gomes, Neitzke, Djuric, Xhemajli (46th plate), Kamber; Corbaz (71st Seferi), Serey Die, Ramizi; Nuzzolo, Karlen (59th Seydoux).
Servette: Frick; Sauthier, Rouiller, Sasso, Iapichino; Stevanovic, Cognat (87th Routis), Ondoua; Park (76th Cespedes), Koné, Tasar (90th Alves).
Remarks: Neuchâtel Xamax without Oss, Dugourd, Doudin and Alic (all injured). Servette without rogue (injured). 56. Red card against Kamber (foul). Cautions: 5th Park (foul), 21st Serey Die (foul), 66th Rouiller (foul), 83rd Nuzzolo (complaint).
Koné scores for Servette after just 14 seconds. Image: KEYSTONE
The table:
The live ticker:
GC, Basel and? These clubs have already become Swiss champions
Top priority: no football fans in the office, please!
Unforgettable Swiss football stories
Subscribe to our newsletter