BANJALUKA – Minister of Education and Culture of the Republic of Srpska Željka Stojičić said that educators contribute to strengthening the educational role of the education system in the Republic of Srpska, transferring their own knowledge and experiences to students, thereby showing how best to face life's circumstances and new challenges.
Stojičić expressed her respect and support for educators in Srpska who, as she stated, devotedly serve this noble calling.
At the solemn event "Our teachers" where this year's Svetosava awards are presented to 40 outstanding educators, primary and secondary school teachers, professional associates and librarians in the Republic of Srpska, she emphasized that efforts are being made to properly value their work and achievements.
"Thanks to their dedication, expertise, and willingness to encourage children to acquire new knowledge and strengthen values ​​such as togetherness, socializing and learning through play, critical reflection, creativity, cooperation – they work in the spirit of what Saint Sava left them as a legacy" , Stojičić said.
According to her, the Ministry of Education and Culture, by awarding the Svetosava Award, emphasizes the importance of improving the position of educators, as well as the overall system of upbringing and education in the Republic of Srpska.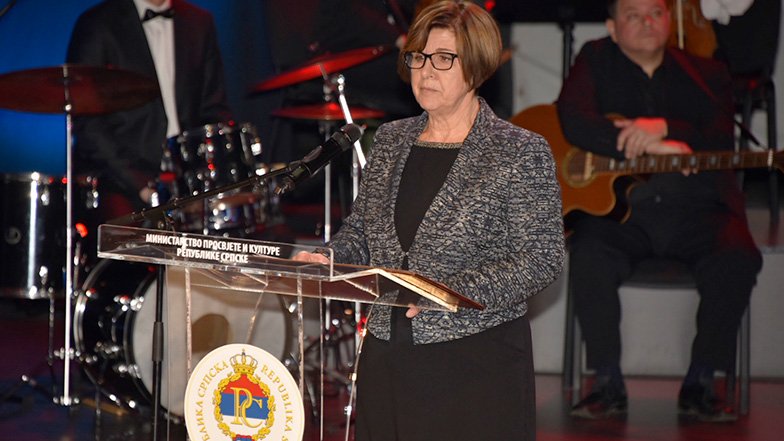 "Strategic decisions aim to achieve goals related to increasing the coverage of children in preschool education and education, innovating programs for preschool, primary and secondary education, as well as providing professional training programs for educational workers and strengthening the connection between education and the labor market," she emphasized. Stojičićeva.
She added that kindergartens and schools continue to be built, and that in accordance with the requirements of the times we live in, it is necessary to further train educators and teachers in order to be ready to meet all the challenges that modern society puts before them.
Speaking about Svetosavlje, Stojičić emphasized that it means a valuable heritage, a path of knowledge, sacrifice, humanity, fostering a culture of dialogue and respect for others and others.
"It also represents every built school, renovated classroom, built kindergarten, contribution to the implementation of reform processes within the educational system… every letter of encouragement and contribution to the enlightening path of our society," Stojičićeva concluded.
The St. Sava Award, which consists of the St. Sava Charter and a monetary award, and a medallion with the image of St. Sava, the work of academician Milivoj Unković, is the support of the relevant ministry and society's gratitude for the role of educators in the upbringing and education of children.
The Institute for Textbooks and Teaching Aids, Istočno Sarajevo, presented all winners with a book this year – "Roman o London" by Miloš Crnjanski.
(www.palelive.com / Srna)