[이철호]
[smartPC사랑=이철호 기자] The LG UltraPC Edge series, which debuted in July, is popular among college students and office workers these days. This is because it exhibits the stylish design, excellent portability, and high performance found in the LG Gram while maintaining the cost-effectiveness of the LG Ultra PC as much as possible.
The laptop to be presented this time is a portable model that stands out among the LG UltraPC Edge series. This is LG Electronics Ultra PC Edge 14UD70Q-GX50K (hereafter 14UD70Q-GX50K). This 14-inch laptop has a slim thickness and light weight, making it easy to carry, and its performance and features are quite high.
Specification
CPU – AMD Ryzen 5 5625U (2.3-4.3 GHz, 16 MB L3 cache)
RAM – 8 GB LPDDR4 4266 MHz (on board)
Graphics – AMD Radeon Graphics
Storage – 256GB M.2 NVMe SSD + Expansion Slot 1 (M.2 NVMe)
Display – 35.5 cm WUXGA (1920×1200) IPS LCD display (anti-glare)
Battery – 72Wh Lithium Ion Battery
Network – Intel Wi-Fi 6 AX200 (Wi-Fi 6, 2×2, BT combo), Bluetooth 5.1, Gigabit LAN
I/O – HP-Out (Headset 4Pole, US type), USB 3.2 Gen2x1, Type-C x1, USB 3.2 Gen2x2, HDMI, DC-in
PC Card Slot – Micro SD Card Slot
Input Devices – Full size 79-key keyboard, touchpad
Sound and Audio – DTS:X Ultra, stereo speakers (1.5W x2)
OS – No OS installed (FreeDOS)
Webcam – HD Webcam
Color – Charcoal grey
Size/Weight – 313.9(W)x220.4(D)x16.3(H)mm/Approx 1.29kg
Add an edge to your design
The LG Ultra PC Edge stands out in its design which is different from the LG Ultra PCs that have been released so far. The same goes for the 14UD70Q-GX50K. The edges are sharply trimmed at right angles to add an edge to the design, and it's simple and luxurious thanks to the charcoal gray color that goes well with the metal material.
It's not just about being stylish. Because the bezel surrounding the 14-inch display is very slim, you can use the laptop under a sense of deep immersion even in a compact size. The key feel of the full-size 79-key keyboard is also appropriate, and thanks to the large enough touchpad, it's easy to work without a mouse.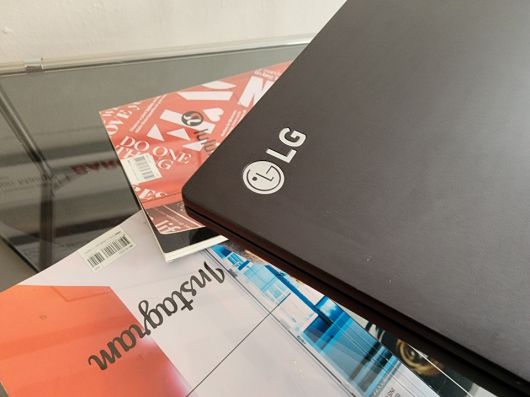 The edges have been sharpened to give the design a cleaner look.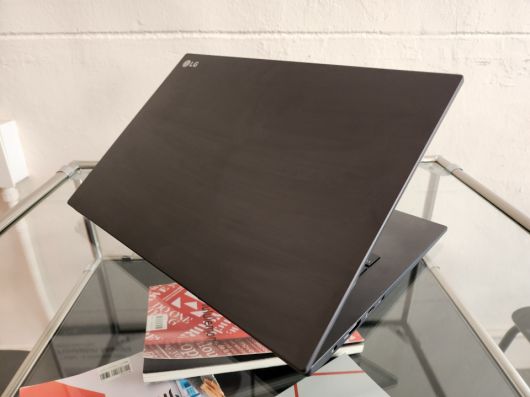 A charcoal gray color was adopted which goes well with the metal material.
A full size keyboard is installed with a quiet and soft key feel.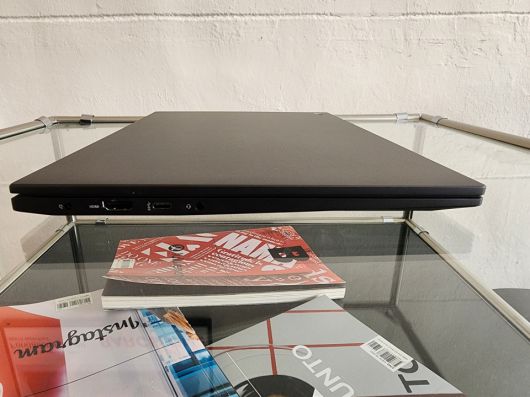 Despite being slim, it has excellent expandability with an HDMI port and a Type-C port.
Let's use it lightly outside
Since most laptop users use their laptops not only at home, but also in campuses, offices and cafes, portability of laptops is very important. Fortunately, 14UD70Q-GX50K is designed to be slim and light with a thickness of 16.3mm and a weight of 1.29kg, so anyone can carry it around easily.
Battery life is also important when using the laptop outdoors. 14UD70Q-GX50K has a high-capacity 72Wh battery, so you can do urgent work and watch videos on your laptop without worrying about charging outdoors. In addition to the supplied charger, USB-PD charging is also possible.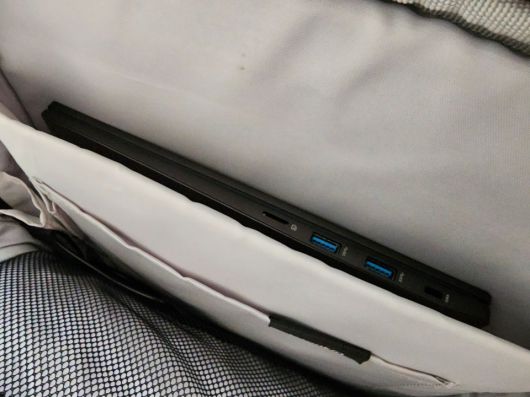 It's small and slim enough to fit in a laptop bag.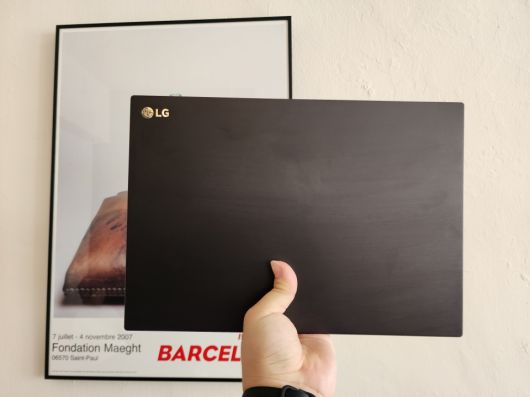 It is made with a light weight of 1kg and is easy to carry.
Capture Performance with Barcelo Processors
The 14UD70Q-GX50K is equipped with a Barcelo processor, AMD Ryzen 5 5625U. The 5625U processor, which includes 6 cores and 12 threads, excels in multitasking, which is important for business tasks and assignments, and also stands out about 19% higher performance than the previous generation.
It's not just the CPU that's great. With 8GB LPDDR4 memory, it can be used comfortably even in an environment where multiple programs are used, and a 256GB NVMe SSD is also installed for fast booting and program loading. The storage space can also be expanded via the SSD expansion slot.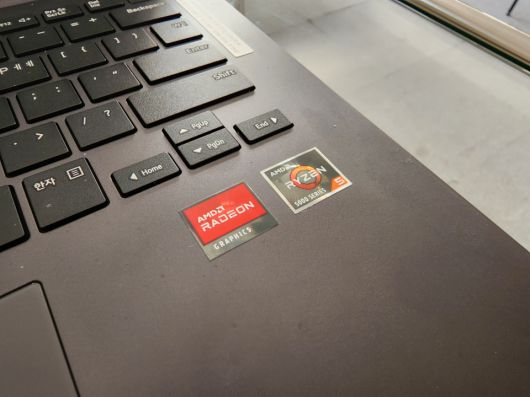 AMD Ryzen 5 5625U is installed.
What about actual performance?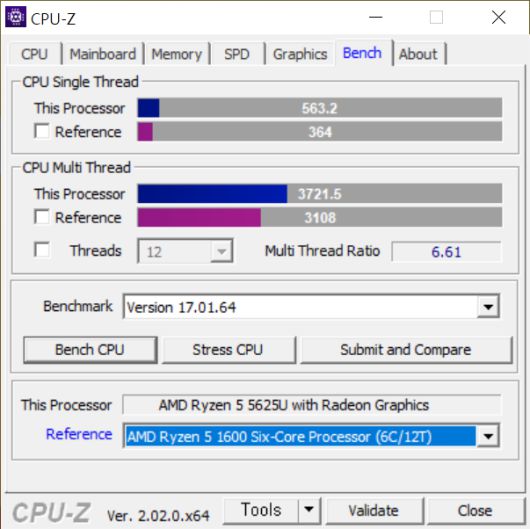 In the CPU-Z benchmark, the single-threaded score was 563.2 and the multi-threaded score was 3,721.5.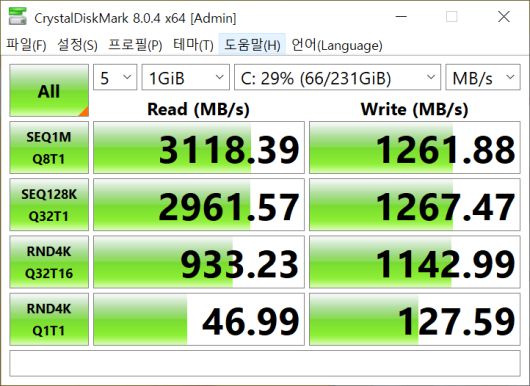 In CrystalDiskMark, the SSD's top read speed was 3,118.39MB/s and top write speed was 1,267.47MB/s.
PassMark PerformanceTest 10.2's overall score was 4,629.3 points.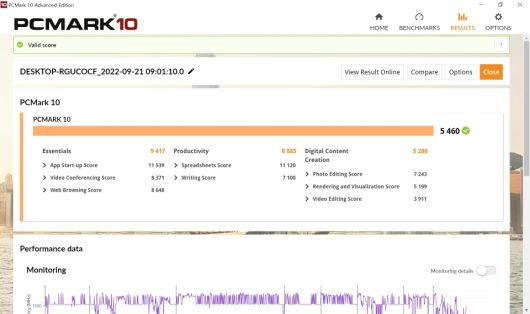 The overall PCMARK 10 score was 5,460 points.
16:10 display that improves work efficiency
The 14-inch IPS LCD display installed on the 14UD70Q-GX50K uses a 16:10 aspect ratio, which is wider than the general 16:9. This means more storage space than a typical 14-inch laptop. This is particularly useful when creating documents with a word processor or when retouching photos in Photoshop.
In addition, you can watch Netflix dramas in more vivid quality by using WUXGA (1920×1200) resolution, which has more pixels than normal FHD (1920×1080). Anti-glare technology that reduces light reflection is also used to reduce condition deterioration due to glare.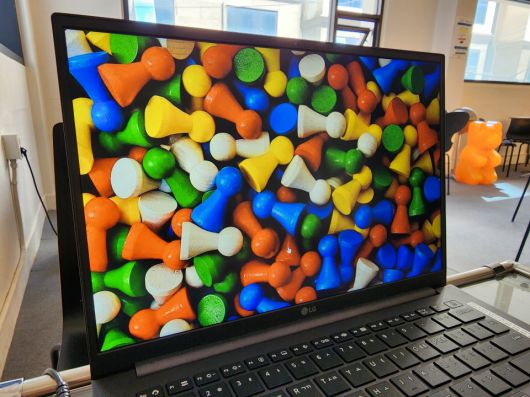 The picture quality is clear by using a high resolution display.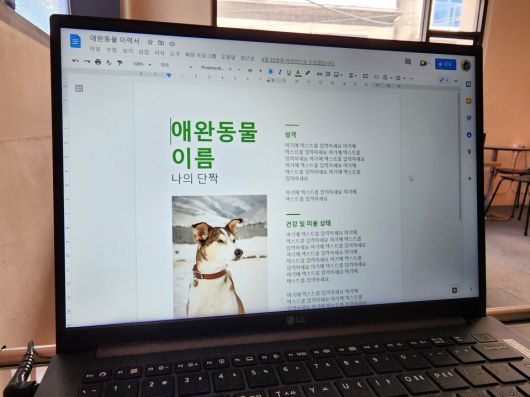 The wider vertical screen makes it easier to work with documents.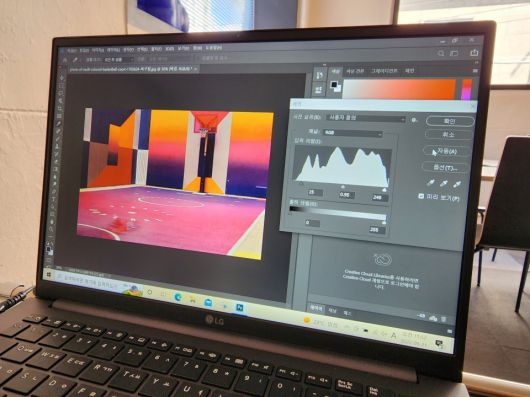 Editing graphics is also faster. The display color is not bad either.
Various convenient functions are also available
LG Glance by Mirametrix software allows you to move the mouse cursor or the selected window to the monitor you are viewing when using the 14UD70Q-GX50K with an external monitor. A security function that automatically locks the screen when it goes out of the camera's view is useful, and it also provides a convenient function that pauses media or notifies you about posture correction when you are away .
In addition, the 14UD70Q-GX50K provides various functions. With Wi-Fi 6, you can use 1Gbps high-speed Internet even wirelessly, and you can use it with wireless headphones via Bluetooth 5.1. The DTS:X Ultra, which supports live surround sound, is also useful.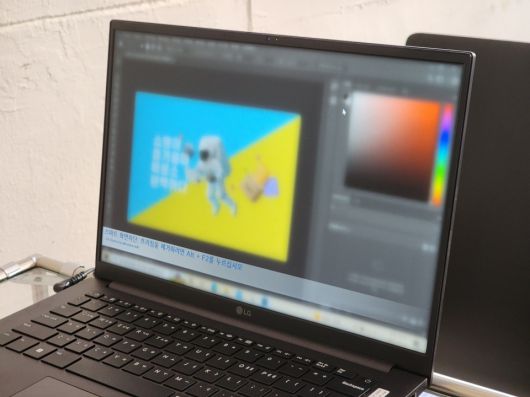 You can protect your personal information with a smart screen blocker when you are away for a while.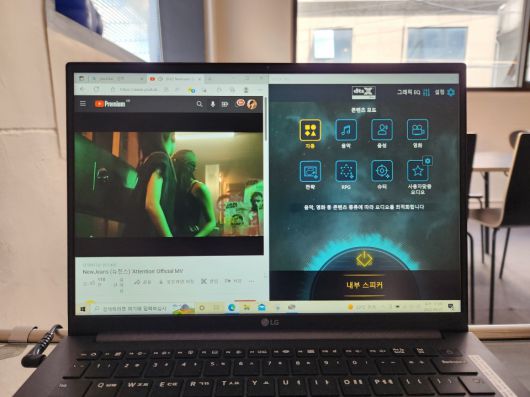 You can enjoy surround sound with DTS:X Ultra.
closing
The 14UD70Q-GX50K is a 14-inch ultralight laptop with a beautiful design, excellent portability, and excellent performance. The price is also available at an affordable price of 889,000 won based on the lowest internet price on September 26th. Recommended for college students and office workers looking for a 14-inch laptop with portability and excellent performance. Product-related inquiries can be made at Best C&F, an official LG notebook distributor.
The categories in this article follow the classification of media outlets.
The category to which the article belongs is classified by the press.
Journalists can classify an article into more than one category.