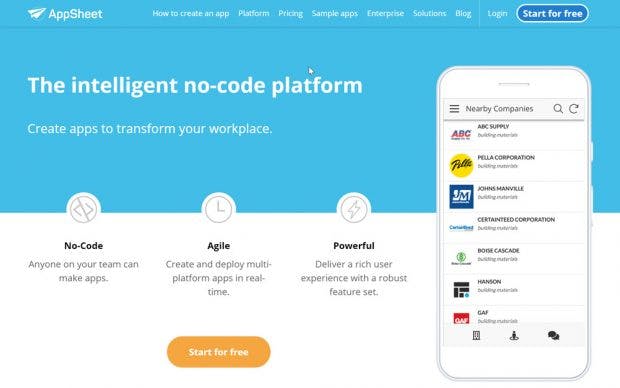 Note: We used commission links in this article and marked them with "*". If an order is placed via these links, t3n.de receives a commission.

Google has announced that it will close its low-code app development environment App-Maker completely by next year. Users can choose alternatives from the Google portfolio.
Google launched App-Maker in 2016 as a development environment for everyday needs in companies, i.e. for users of the in-house G-Suite. They should build common applications with the app maker, such as forms, frontends for internal databases or tutorials. Google had pre-built modules and components that could be assembled into finished apps with very little additional code.
Google exits App Maker in three steps
According to the manufacturer, the environment could not prevail, which is why the decision was made to phase out the product. As of now, Google has stopped developing App-Maker. Nothing changes for users. From the middle of April this year, no more apps can be created and on January 19, 2021 it will finally be over.
App-Sheet is the designated successor
Google gives the low use of the product as a reason. In fact, it should matter that the manufacturer bought an application with Appsheet a little over a week ago that exceeds the functionality of the app maker in automating business processes and works in a similar way. Appsheet was also able to convince well-known users who have created a total of around 1.7 million apps so far. Not surprisingly, Google App Maker recommends switching to Appsheet.
Google recommends that users who have developed apps with App-Maker, not just pure essays, switch to the app engine, while users who used App-Maker for data collection should switch to Google Forms.
In any case, a clean strategy is required when switching, because Google does not offer a migration path.
Suitable for this: Market overview app builder: Mobile apps from the modular system