Thai cyclists practice hard and prepare for the World Championships in Belgium
"Seth Ink" Gen. Decha Hemkrasri, president of the Cycling Association of Thailand revealed that after the Thai national team cyclists, consisting of Sarawut Sirinachai, Chaiyasombat Bank, Ratchanon Yaowarat, and Moo Hamad Hanafi Kuechi, Petchdarin Somrat, Chaniphon Battiya, Kamolrada Khaoprad, along with "Coach Tam" Mr. Wisut Kasiyapat, Chief Instructor, Police Lieutenant Adi Sak Wannasri, coach and Police Captain Nattapon Jeetavorntavit, team mechanic, traveled to the UCI Road World Championships 2021 in Belgium. Between 19-26 September, the Thai cyclists departed from Suvarnabhumi Airport at 03.10 a.m. on the early morning of September 9 and arrived in Brussels. Belgium at 6:40 p.m. Thailand time Total travel time is approximately 16 hours.
Gen. Decha said that he recently received a report from "Coach Tam" Wisut Kasiyapat, the head coach. that after the Thai cyclists arrived in Brussels On the first day, let everyone rest fully to adjust the time. Because of the time in Belgium Five hours later than Thailand, then on September 10th, cyclists went out to practice lightly in the rain and cold weather of around 19 degrees Celsius while exploring the race track in Brussels. Most of the roads are quite narrow. Sometimes it's one way. and some sections are covered with bricks and moss. make it smooth enough Must be careful when cycling. On September 11, "Coach Tam" took the athletes out for a 120 km bike ride. The weather was clear without rain. but still cold The temperature is about 22 degrees Celsius.
Prime Minister of two wheels of Thailand went on to say that For the training program on September 12, "Coach Tam" has given all 4 male athletes, consisting of Sarawut Siriranchai, Bank Chaiyasombat, Ratchanon Yaowarat, Muhammad Hanafi Kueji, to practice. In the morning, in the distance of 140 km, 3 female athletes, namely Petchdarin Somrat, Chaniphon Battiya, Kamolada Kaothod, competed in the local program. In the city of Bornem (Bornem) distance of 102 km, the race starts at 3:00 PM or exactly at 8:00 PM in Thailand time. which in Belgium There will be four to five cycling races a day, depending on which race we choose. However, the four men's cyclists have a program in Barlare on Monday, September 13. Circuit, 7.1 km per round, total 17 rounds, 120.7 km distance to warm up before the world championship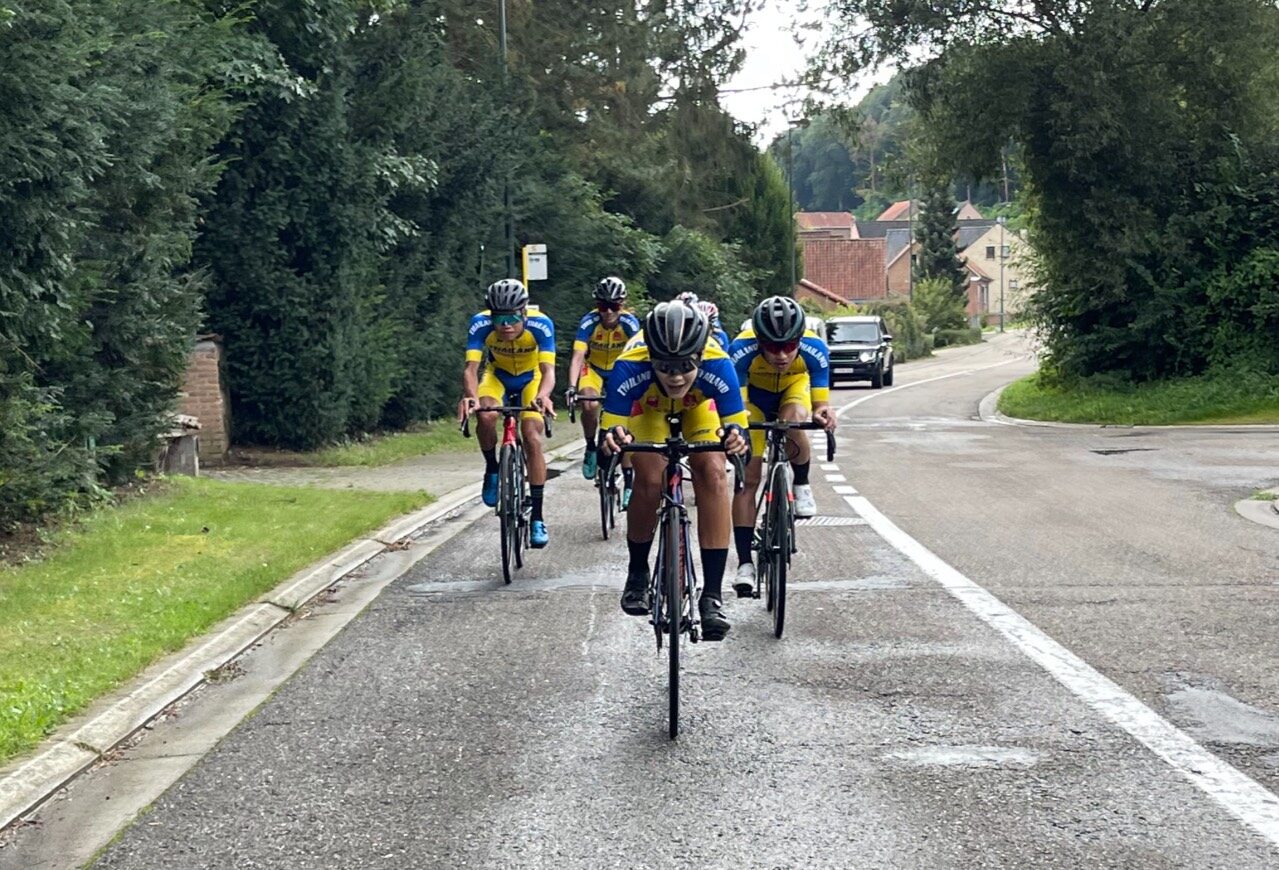 "Right now, the mental state of all the Thai national team riders has a lot of enthusiasm and determination. Ready to compete in the World Championship After a long hiatus from competing in international competitions. due to the spread of the COVID-19 virus which this world cycling championship Only 5 countries in Asia have the right to send athletes to compete: Japan, Hong Kong, Uzbekistan, Kazakhstan and Thailand. Because the Thai cycling team has a cumulative score of the country of the International Cycling Federation or UCI high enough to be eligible to compete in the male public version, female public version and under the age of 23, while some countries have the right to compete However, there are some visa issues and some congestion issues. Therefore, athletes cannot be sent to compete," said Gen. Decha.
Gen. Decha also said that due to the situation of the Covid-19 virus that is spreading around the world He told Coach Wisut to remind the athletes to be careful. If you need to leave the accommodation, you must wear a mask at all times. to prevent the COVID-19 virus including taking care of food Must eat cooked food to prevent diarrhea or food poisoning which will affect the competition It's important to be careful about getting sick. with cold weather Athletes can be sick. But the Bicycle Sports Association Prepared winter clothes Cold gloves for all athletes before traveling to Belgium. In addition, he has given encouragement to all athletes. Please do your best for the reputation of Thailand And ask for the strength of the Thai people's brothers and sisters to send encouragement to support Thai cyclists to fight the World Cycling Championship this time.
For the schedule of the cycling world championships of the Thai national cycling team They are as follows: September 19, Time Trial, male person, distance 43.3 km. Sarawut Sirinachai, on September 20, Time Trial, age not over 23, male, distance 30.3 km. Bank Chaiyasombat and Time Trial, female individual, distance 30.3 km. Petchdarin Somrat, on September 24, road race, age not over 23, male, distance 160.9 km. Bank Chaiyasombat, Ratchacha Nont Yaowarat, Muhammad Hanafi Kuechi, on September 25, women's road race, distance 157.7 km. On September 26, male public road race, distance 268.3 km. Sarawut Sirinachai