July 30, 64-International Futsal "CONTINENTAL FUTSAL CHAMPIONSHIP THAILAND 2021" or Futsal Pre-World Cup Finals at Show DC Hall 1, Show DC shopping center, Thai futsal team No. 18 in the world and No. 3 in Asia, meet Iran, No. 6 in the world and No. 1 in Asia
This game, "Coach Mee" Rakphon beautiful eyes Thai futsal team coach sent the first 5 of futsal, Kanisorn Phuphan, goalkeeper, Kritsada Wongkaew, team captain, Jirawat Sonwichian​ , Muhammad Usman Musa and Supawut Thuanklang, shooting stars from Nagoya Ocean Leader of the Japanese F League 2021​ First start
As for Iran's first five under the command of Nasem Al Sharia, send goalkeeper Sheina Pakas, four players, with Rafiepua. R, Ali Hassansaday, Gorad Obas and outstanding striker Madi Javid
It turns out that the Thai team lost 1-5 to Iran, with the Thai team getting a goal that broke the egg from Nattawut Matyalan.
with Mr. Pedro Mendes, a match commissioner from Spain, along with "Big Pom" Adisak Benjasiriwan Vice President of the Football Association of Thailand and the president of the development of futsal and beach football of the Thai national team, including "Big Su" Suthin Buatum, the team manager of the Thai national futsal team, presented various awards at the ceremony. turn off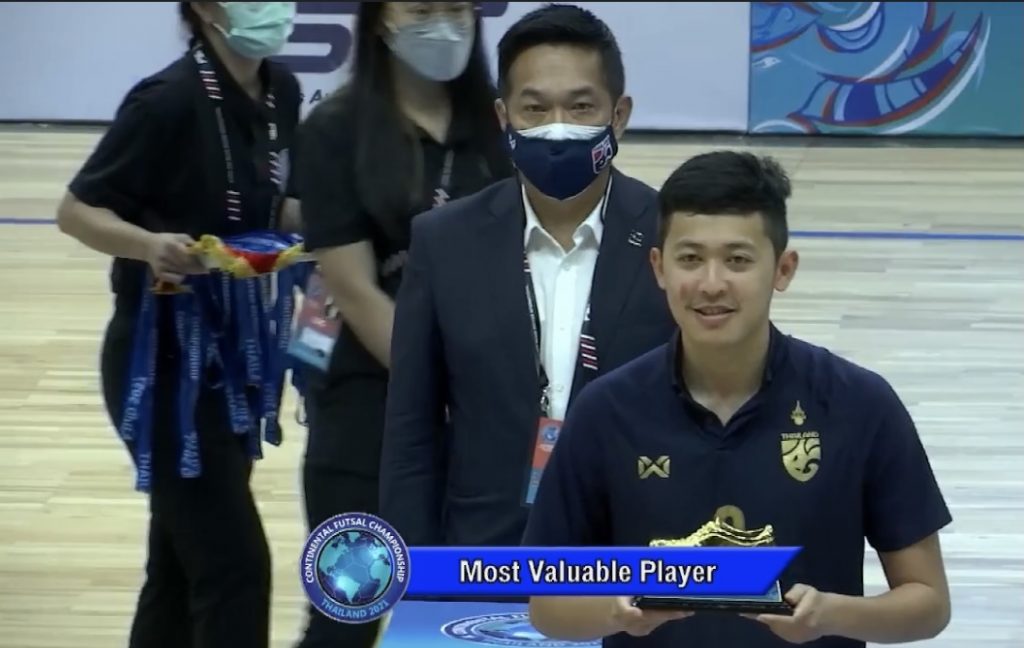 which the champion went to Iran, runner-up Thailand, 3rd Uzbekistan, 4th place Egypt, 5th place Tajikistan, 6th place Mozambique, 7th place Lithuania, where 8. Kosovo, top scorer: Madi Javid of Iran, scores 7 goals, best goalkeeper: Jamal Abdelnasser Egyptian goalkeeper, MVP, namely Supawut Thuanklang, Thai national futsal team and fair play, including Lithuania
On the side of "Big Su" Sutin Buatum, team manager, said that when we arrived at the final, it was at least according to the goal that must be achieved. The game against Iran we know is a difficult task. We fought with all our might. The boys are all fighting The coach also allows the players to experience the game. To learn to prepare the team It was noticed that Power play we can play. But I want us to have a game to play first. We look at that and think we will get a lot from this game, both points that need to be fixed. and our good point Which we will have to prepare the team continuously before going to the World Cup – Thai News Agency.
see more news