Sunday, May 30, 2021, 2:17 p.m.
Thailand is cool !!! Production of a successful smoking cessation drug for the first time in Thailand. SSO joins SWU-SCI-APJ to register a "sci-tzine" herb extract "Chamchuree Golden" sets the lowest price target, "Dr. Suthat" reveals near-successful research Safe – good performance Prepare to push into the national main drug list. Thai people have access to cheap prices. Point out to 40% of successfully quitting smoking with drugs, just 5% quit by themselves.
On May 30, Ms. Roong Limpahaphan, Acting Director of the Office of Major Risk Factors Control Support The Health Promotion Foundation (Thai Health Promotion Foundation) said that on the World No Tobacco Day on May 31 of each year, this year the World Health Organization has designated the slogan "COMMIT TO QUIT" for Thailand. Ministry of Public Health Has set a slogan that "Stop smoking, reduce risks, you can." Driving Thai society to be smoke-free By supporting tobacco control measures at all levels Promoting smoke-free environmental measures Educating and raising awareness about the dangers of cigarettes. To modify the behavior of quitting smoking Available to provide treatment for cigarette addiction and nicotine products. In order for Thai people to quit smoking correctly and safely There are both drug addiction treatment services and non-drug use to help quit smoking, for example, Faasai clinic, a volunteer drug store. One Stop Service Nursing Service, Smoking Cessation Line 1600, empowering communities to help quit smoking by volunteers, foot reflexology to help quit smoking, etc., with the goal of helping Thailand reduce the smoking rate. The goals set by the World Health Organization are Reduce the smoking rate to 15% of the global population. Or there are no more than 9 million smokers by 2025.
"Currently, all over the world, including Thailand, are affected by the coronavirus disease, or COVID-19, which will destroy the lungs. Smoking of any kind causes severe pneumonia. Cigarettes are the main cause of lung damage and increased risk of contracting the virus. And spread the virus through aerosol Different types of cigarette smoke If a smoker is infected with COVID-19 Will result in symptoms worsening. The SSS invites you to use this opportunity to quit smoking of all kinds. For their own health And for the safety of COVID-19, "said Ms. Arun.
Assoc. Prof. Suthat Rungruang Hiranya Internal Medicine Specialist in Respiratory Diseases Department of Internal Medicine Faculty of Medicine Srinakharinwirot University (SWU), as Vice President of the Medical Profession Network for Controlling Tobacco Consumption Supported by OSMs, said that at the moment, the Faculty of Medicine, SWU, in collaboration with the Center for Research and Knowledge Management for Tobacco Control (SorJor) FTI and the Government Pharmaceutical Organization (A.D.) are conducting research studies to develop a new type of smoking cessation drug in Thailand called "Cytisine" (Cytisine), a natural extract from "Golden Chamchuri Seed" has properties that help relieve nicotine withdrawal symptoms. Make you relax and not frustrated while entering the process of quitting smoking. This drug has been used for over 60 years in Eastern Europe. It is a very effective and safe smoking cessation drug. It is a drug that the World Health Organization has endorsed and is encouraged by governments of all countries to make it easier for their people to access cheap smoking cessation drugs. The research in Thailand is currently in the process of analyzing data of 500 people who received this drug smoking cessation service compared with another group of 500 people who used other drugs.The data will be analyzed by June. this When the results of the research have been completed The pharmacist will register the drug with the Food and Drug Administration (FDA) and will then push this drug into the national list of major drugs.
"This drug has a relatively inexpensive manufacturing cost compared to other smoking cessation drugs. Which is already sold in Thailand, I am confident that I will be able to set a low price so that all Thai people can have access to good and cheap drugs to help quit smoking thoroughly. For how to use this drug The pill comes in a size of 1.5 mg / tablet, during the first 3 days you have to take 6 tablets / day, then reduce the size gradually to 5 tablets / day, then 4 tablets / day and 2 tablets / day until the completion of 25 days. Now there is research abroad trying to find an easier way to take this drug. It was found that I could only eat 2 tablets 3 times a day over 25 days and the results were no different, "Assoc. Prof. Suthat said.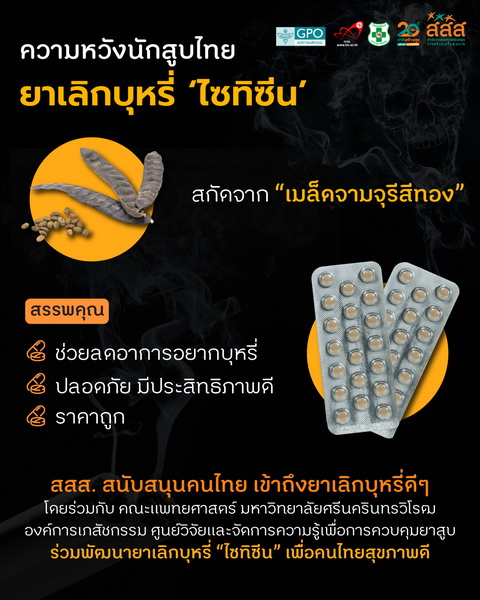 Assoc. Prof. Suthat continued that cytizine is a good drug, safe, cheap, and there are many international researches that it is really effective. It is of great interest to many countries, in addition, there are efforts to bring this drug. Which originally did not have the copyright owner of drugs Registered in the United States To hope to own this drug and see the profit of the business. For Thailand This drug is not yet listed in the country's drug account system. Therefore, it is imperative that the government of Thailand urgently need to push this drug into the drug list system. So that this drug is the property of all Thai people. Having good quality and cheap smoking cessation drugs Self-produced by the government sector It is an important step forward for smoking cessation services in Thailand that will help Thais get better health and get away from tobacco products more permanently.
"The network partners have been actively promoting smoking cessation campaigns with the Thai Health Promotion Foundation. With the Fahsai Clinic Providing smoking cessation services and referring to treatment in health service systems nationwide. According to the statistics of the network of quit smoking counseling clinics, on average, in 1 year, the average number of participants was able to quit smoking 30-40%, while only 10% of non-drug users were able to quit successfully. Manually Without having access to any form of smoking cessation services Will have only 5% chance to quit success, which on the World No Tobacco Day this year World Health Organization The slogan "Commit to quit" has been set up to encourage governments of different countries. Has promoted and strengthened the smoking cessation service system While also giving people more access to cheap drugs to help quit smoking Which is in line with the work of Thai Health Promotion Foundation And the partners aiming to reduce the smoking rate of Thais by at least 25% from the original. It will be an important helper for Thai people to be healthier and more smoke-free, "said Assoc. Prof. Suthat.