According to a study result, the average duration of each symptom related to the new mutant Omicron of COVID-19 was 2 to 5 days.
13 (local time) According to foreign media, Norwegian researchers interviewed 81 of the patients with a group infection at a Christmas party held in Oslo on November 26 (111 out of a total of 117 people) and analyzed the duration of symptoms after infection. appear.
The most common symptom complained of was cough, which was reported by 83% of the infected, and had an average duration of 4 days. The subsequent runny nose and fatigue were complained of by 78% and 74%, respectively, and the mean duration was 4 days each.
Also, the sore throat was experienced by 72% and lasted an average of 3 days. Headaches complained of by 68% of infected patients lasted an average of 2 days, and myalgia, 58%, experienced for an average of 2.5 days. Another 54% experienced fever, which lasted 2 days.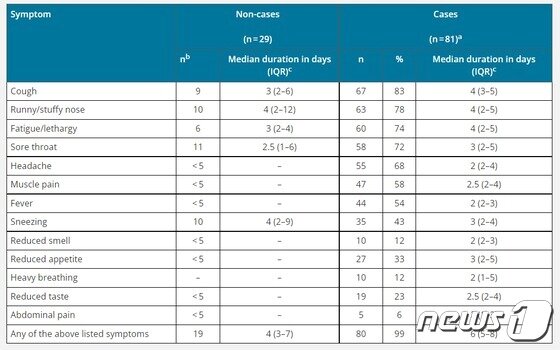 When a Norwegian research team analyzed Omicron patients who were infected in one place in one day, the average duration of each symptom was 2 to 5 days. Capture of Eurosurveillance. © News1 Reporter Choi Seo-yoon
Others were sneezing 43%·3 days, loss of appetite 33%·3 days, taste loss 23%·2.5 days, smell loss 12%·2 days, dyspnea 12%·2 days, abdominal pain 6%·2 days.
However, there are opinions that dyspnea and loss of taste and smell are symptoms of delta mutation infection rather than omicron.
Of the 80 people infected, 91% experienced at least three of the symptoms mentioned, and the average age of those surveyed was 39, and most were fully vaccinated, the researchers said.
Among the study participants, 1 was asymptomatic, 5 were severe, 42% were classified as symptomatic level 3, and 11% were classified as symptomatic level 4, but there were no hospitalized patients.
The researchers published the results of this study in Eurosurveillance, an academic journal published by the European Center for Disease Control and Prevention (ECDC).
On the other hand, in the UK, similar symptoms lasted from 5 days to a week on average, and there is a study result that cough and fatigue lasted longer (about 13 days).
sabi@news1.kr