BMW M GmbH has unveiled the new BMW M3 CS, the new G80 chassis, which is powered by a 3.0-litre M TwinPower Turbo 6-cylinder petrol engine with a maximum output of 550 hp (HP) and an all-wheel drive system M xDrive capable of 0 -100 km/h acceleration in just 3.4 seconds
The new BMW M3 CS is a further development of the regular M3 with an emphasis on increasing engine power and reducing body weight. It comes with an M TwinPower Turbo 3.0-litre inline 6-cylinder engine that was developed specifically for the M3/M4 family of cars and is also the same block used in the M4 GT3 and M4 DTM racing cars. Maximum power is 550 horsepower (HP), an increase of 40 horsepower compared to the M3 Competition and it has a maximum torque of 650 Nm, which comes from a low rpm of just 2,750 rpm.
All the power is transferred to the road via an eight-speed M Steptronic transmission with carbon fiber shift paddles on the steering wheel. The driver can set the transmission speed via the Drivelogic button, and the M xDrive all-wheel drive system uses a multi-plate clutch to quickly change the power transfer from wheel to wheel. The all-wheel drive system of the BMW M3 CS focuses more power on the rear wheels than the front wheels. 100% of power is transferred to the rear wheels, while the DSC stability control system is deactivated to allow the engine to unleash its full potential.
The powertrain and drivetrain allow the BMW M3 CS to accelerate from 0-100 km/h in just 3.4 seconds and 0-200 km/h in 11.1 seconds 302 km/h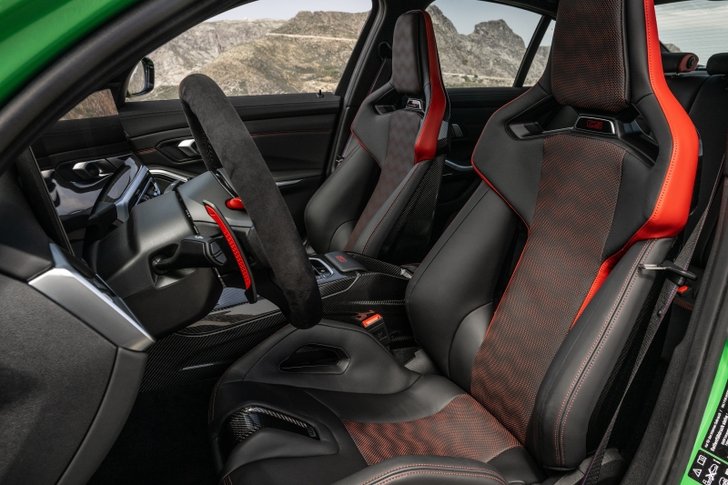 The BMW M3 CS has been reduced in weight by using lightweight carbon fiber materials. Whether it's the roof area, bonnet, front skirt, front air intake, side mirror cover, rear diffuser and rear spoiler Including a titanium exhaust system that reduces weight by 4 kilograms, while the cabin is equipped with M Carbon bucket seats upholstered in Merino leather with black-and-red accents. The changes in materials and components mean that the M3 CS is 20 kg lighter than the Competition M3.
Customers can also choose from Fozen Solid White, which is only available on the CS model, as well as Signal Green Solid, Brooklyn Gray and Sapphire Black. There is no need to order more which is special as the light is yellow instead of white usual Get a frameless front grill emblazoned with the "M3 CS" emblem, as well as various carbon fiber accessories. still revealing the texture of the material without being painted over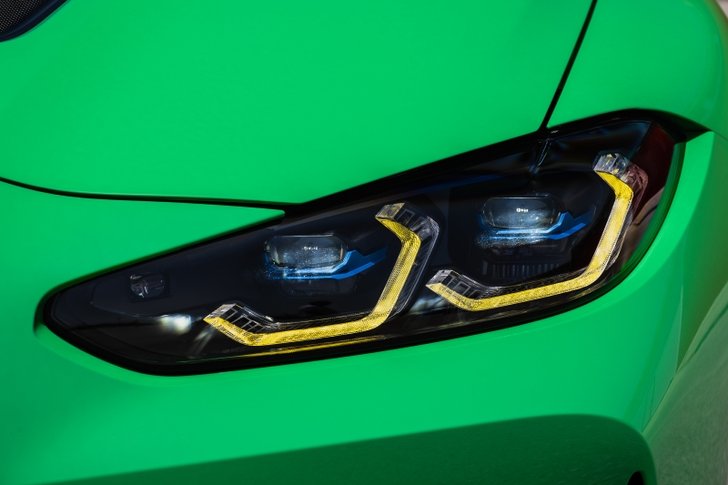 The cabin is equipped with a BMW Curved Display that includes a 12.3-inch driver display and a 14.9-inch touchscreen, which maximizes driving. Widgets can also be displayed to indicate current settings, and tire pressure and temperature information can be added to the home screen.
The BMW M3 CS will be produced in limited numbers. Currently, BMW has not disclosed production numbers in any way.