Photo = MBC News Desk capture
The franchise company'the most delicious pig's feet', which produced live rats from the side dish, belatedly apologized.
It seems that the evidence related to the incident was accurately captured by CCTV.
'The most delicious pork feet' side posted an official apology on its website yesterday (10th).
In an apology, CEO Choi Jong-wan said, "As a representative of the company for the incident that occurred at our store (Sangam Digital Store), we are a representative of the company, and we are deeply aware of the great responsibility caused by the negligence of store management. I sincerely bow my head to all customers and apologize."
"I had to apologize to customers as soon as the incident occurred, but I am also sorry for the late apology because the issue is not easy to occur at the restaurant business and I had to identify the cause of the incident in consideration of various possibilities. "Do it".
He also said, "I visited the customer who suffered great trauma and damage from the incident and made a sincere apology, compensation, and promise to prevent recurrence."
In the end, he said, "We are making plans and inspections to control hazards and pests for the largest quarantine company in Korea and all stores across the country, and we will complete them as soon as possible."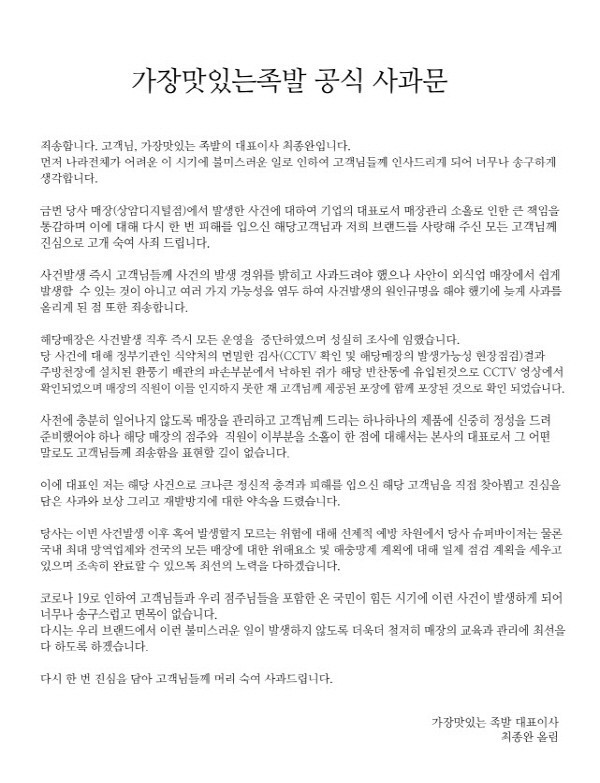 Photo = The most delicious pork feet homepage
Earlier on the day, the Ministry of Food and Drug Safety said, "As a result of the investigation, we confirmed the situation where a rat was found as a foreign body by entering a bowl of leek radish, which is served as a side dish with pork feet."
In the CCTV footage secured by the Ministry of Food and Drug Safety, a rat of 5-6 cm in length was moved through the pipe of the ceiling fan and dropped into a side dish 20 minutes before food delivery.
[MBN 온라인뉴스팀]