October 31 'Halloween Day' Itaewon, Yongsan-gu, Seoul. Reporter Seo Min-sun
"Please wear a mask. Mask up! Mask up!"
On the 31st of 'Halloween Day', in Itaewon, Yongsan-gu, Seoul, police officers who were in control of the streets conducted a broadcast asking passersby to wear masks without a break. This is because there were many people who did not wear a mask at all, not to mention 'Tuxk', amid a large crowd of people gathered to attend the festival.
Merchants responded to the 'Halloween Day' festival held one day before 'With Corona' (step-by-step recovery of daily life), saying that it was 'breathing out'. However, there are concerns that some citizens may not properly observe quarantine rules such as wearing masks and maintaining distance, leading to a large-scale epidemic of 'Halloween'.
On this day, Itaewon was so crowded that there was no time to set foot as citizens dressed in various makeup and citizens came to watch it. In particular, in the case of 'Itaewon World Food and Culture Street', it took more than 10 minutes to travel 100 meters at one time because of crowds.
A man dressed as a character from the cartoon Sailor Moon said, "I dressed up with the concept of a pretty warrior who defeats Corona 19. We can't get rid of the virus while doing with Corona, but let's overcome it even for fun." He said, "I got the vaccine. Even with makeup on, they are playing safely by following the quarantine rules, such as wearing a mask."
He added, "I was very frustrated because I couldn't play until now, but I'm glad that I can breathe a little bit more now."
Person A showed a negative reaction to the 'concern of a large-scale infection'. He emphasized, "Even if I go to a department store, people are already busy, but I don't think it's particularly dangerous for a Halloween party (gathering a lot of people)," he said.
Mr. B, dressed as another cartoon character, said, "It is a concept that means that we will all overcome the corona once, let's do our best." He said, "It was Halloween day, so I had no choice but to come out today. I think it's a criticism, but I think everyone should take that into consideration. Now that it's with Corona, I hope we can overcome it by following the quarantine rules well."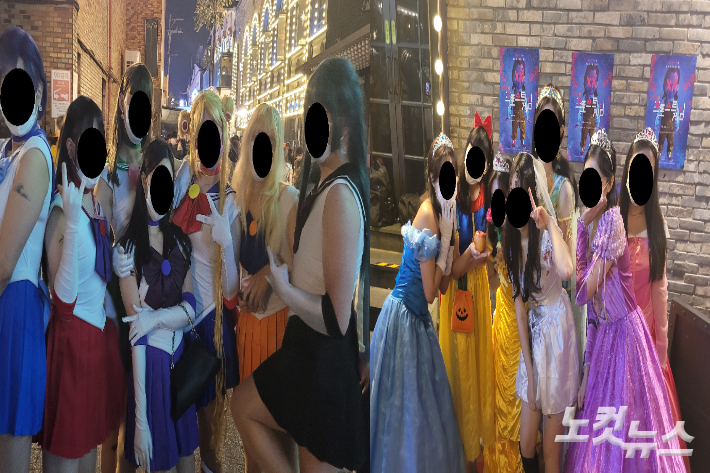 In Itaewon, Yongsan-gu, Seoul, people dressed up for Halloween on October 31st walk around. Reporter Seo Min-sunThe merchants were welcoming. Mr. C, who works at a nearby bar, said, "As social distancing is lifted, the number of customers is increasing."
He added, "It's a pity that we have to open until 10 o'clock," he added. When 'With Corona' starts on the 1st, it will be open 24 hours, except for some entertainment facilities.
Mr. D, who runs a general store in Itaewon, also pointed to nearby restaurants and said, "These places have been closed these days, but they opened because distance was lifted and we were doing Corona." It has come. Everyone is looking forward to it," he said.
"The problem is that a lot of foreigners are out now," he said. "Before Corona, there were about half of foreigners, but now I don't see many. It seems that it will take time for them to come back."
Citizens dressed in various costumes for 'Halloween Day' on October 31st. Reporter Seo Min-sunOn the other hand, some are concerned that a large-scale epidemic will start again this weekend, which was 'Halloween Day', as the number of new confirmed cases has been in the 2,000 range for the fourth day. Jeon Hae-cheol, the 2nd deputy director of the main headquarters (Minister of Public Administration and Security), also said at a meeting of the main headquarters that "the number of confirmed cases is highly likely to increase due to Halloween Day."
In fact, on the streets of Itaewon, quarantine rules were often caught. Some people took off their masks and smoked right next to a crowd of people, while others walked around without a mask at all, even wearing makeup on their lips.
The distance between tables in the dining room was not properly observed. Most of the tables were next to each other without any gaps, as if the number of tables had been increased compared to the existing ones for the Halloween special. In addition, while eating food on the terrace of a restaurant, they dressed up and called passers-by to take pictures with their masks off.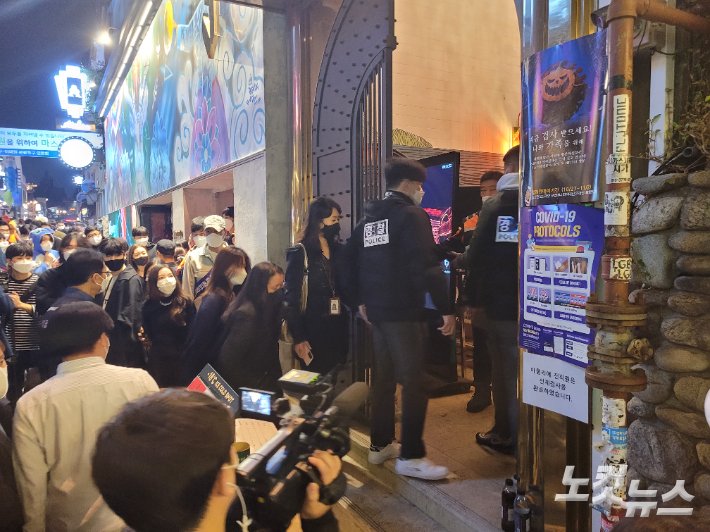 October 31 'Halloween Day' The Seoul city and the government jointly crack down on a restaurant in Itaewon, Yongsan-gu. Reporter Seo Min-sunThe Seoul Metropolitan Government and the government also launched a joint crackdown. A total of 20 people were mobilized at the Itaewon crackdown site, including employees of the Seoul Food Policy Division, the People's Livelihood Justice Police Corps, the Seoul Metropolitan Police Agency, and the Ministry of Justice. Divided into three groups, they toured restaurants and pubs to crack down on whether they were properly observing the entry and exit list management, limiting the number of people, and prohibiting dancing.
Lee Yong-ho, head of the Seoul Food Policy Division, said, "We consider Halloween Day as the last gateway to With Corona and are conducting special quarantine inspections." We plan to file a criminal complaint and claim compensation for damages," he said.
According to the Central Disaster and Safety Countermeasures Headquarters, the number of new confirmed cases of COVID-19 on the 31st was 2,061. Since July 7 (1211 people) when the fourth wave started, it has been in the four digits for 117 days in a row.
Meanwhile, 'With Corona' starts at 5 am on the 1st. Private meetings can be held for up to 10 people in the metropolitan area and 12 people in non-metropolitan areas, regardless of vaccination. However, in places where masks must be removed, such as restaurants and cafes, up to four people who are not vaccinated can join. Most multi-use facilities, except for entertainment facilities, are open 24 hours a day.