Ma Dong-seok as Gilgamesh in Marvel's new movie 'The Eternals'
"Video interview without audition"
"Participate in action design"
"Angelina Jolie was like an old friend"
"Korea is already a content powerhouse" pride
"He is the first hero from Korea."
Actor Ma Dong-seok, who attended the video press conference for the movie 'The Eternals' held on the 22nd, said: Ma Dong-seok was thrilled to become a Marvel hero and talked about the possibility of collaborating with Marvel and Hollywood in the future.
'The Eternals' is the story of immortal heroes who have been hiding for thousands of years and unite again to face the oldest enemy of mankind, the Debianz. Ma Dong-seok plays the hero Gilgamesh in this movie.
Ma Dong-seok said, "I was originally a fan of Marvel, and I was also an original fan of director Chloe Zhao. This time, we got to work together, and I am happy to be acting with actors such as Angelina Jolie, who is a world-famous giraffe." He also said, "I thought I would be able to work with Marvel through this opportunity. I've done a lot of action in the past, but I think I can show various actions and characters together."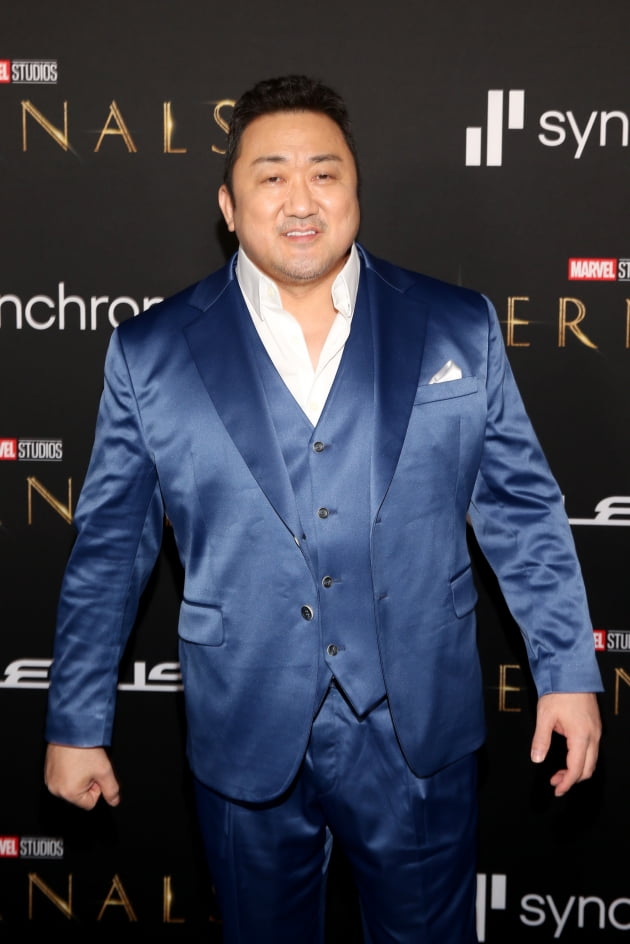 Ma Dong-seok explained the process of joining 'The Eternals'. He said, "After 'Train to Busan' became widely known abroad about 6 years ago, several proposals came from Hollywood. There are works that I produce and appear in Korea, so the timing is not right. He came to me with the role of Gilgamesh in 'S' and said that I would like to try it once." He continued, "There was no audition, and we talked with the producer via video. I made a character with the action that I showed in my previous action movies, my original personality, and my athletic style, such as boxing, which I've been doing for a long time. It's an honor to join." said
It is said that Ma Dong-seok was also involved in Gilgamesh action design. Regarding the action characteristics in this movie, he said, "It's an action based on boxing that I've been doing for a long time. He suggested that it would be good to include fist-punching and palm-hitting actions in a state that director Chloe Zhao and Marvel had seen and studied in my other movies. "he said. He continued, "I got to work with a great action team, and I also participated in the action design because Marvel or Chloe wanted me to coordinate with the action team," he said. I thought it would be a good fit."
Regarding Gilgamesh's character, he said, "We had a lot of discussion because we wanted to change the mythical character to an Asian character and make Marvel the character that best suits me." He explained, "Gilgamesh has an immortal soul and has lived for more than 7000 years. So, we had to act together as a human being and a person beyond human beings." In addition, "Gilgamesh is warm-hearted and affectionate, and acts as a protector for the Eternals family. In particular, as the protector of Thena, played by Angelina Jolie, he comes out as a warm and fun person. When fighting the Devianz monsters, he is a fierce and powerful warrior and fighter. Transformation. I tried to change it so that it has a warm and humorous but ferocious warrior-like aspect."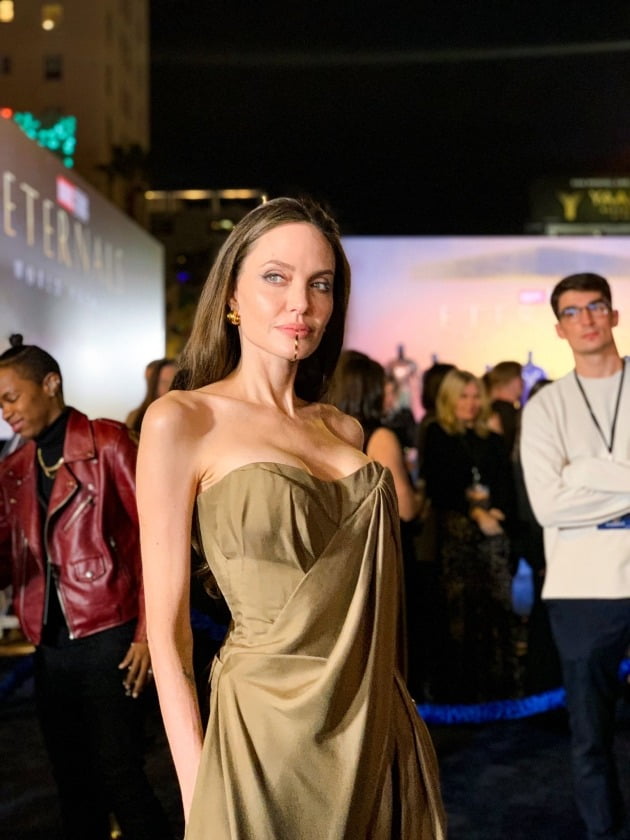 Ma Dong-seok said he was comfortable with the cast as if he had known him before. He said, "We didn't have much time to rehearse when we met. It was a situation where all the cast members had to shoot after one or two encounters. Nevertheless, they opened their hearts to each other and soon became like family," he said. The relationship has improved. It was amazing to see people from different backgrounds gather together and form a family-like relationship in such a short time.
Ma Dong-seok spared no praise for Angelina Jolie. Ma Dong-seok said, "Angelina Jolie is a good person and has a lot of consideration. The other actors made it easy for me to act." Also, "I and Angelina Jolie have been acting for a long time, and it felt like I was filming with friends I knew for a long time after a long time. It wasn't unfamiliar. Angelina Jolie also said that she was a fan after watching my movie. He told a lot of good stories. I think it was captured in good chemistry on the screen."
During Ma Dong-seok's interview, Angelina Jolie made a surprise appearance. Ma Dong-seok was surprised by the unexpected situation, but greeted him with a hug. Angelina Jolie greeted with a bright face, but expressed regret that she could not go to Korea due to the corona pandemic. Ma Dong-seok agreed, saying, "We talked about wanting to meet Korean fans, but because of the global pandemic called Corona, we couldn't go." Angelina Jolie said, "The time with Ma Dong-seok was like a dream. It was incredibly exciting to film an action scene together." After Angelina Jolie left, Ma Dong-seok thanked him, saying, "It's hard to come here like this, but I'm a loyal friend."
Ma Dong-seok also praised director Chloe Zao, saying, "He understands both the artistic and commercial aspects well. He also said, "I think there are parts of the film that the director is confused and cannot answer himself, but Chloe Zhao doesn't say he knows everything, he speaks frankly." He continued, "I think I made a good work by mixing the artistic part and the entertaining part well." "It wouldn't have been easy to harmonize 10 characters from all over the world in a new worldview, but I think I did it well. We also talked a lot about other movie stories, writings, and characters."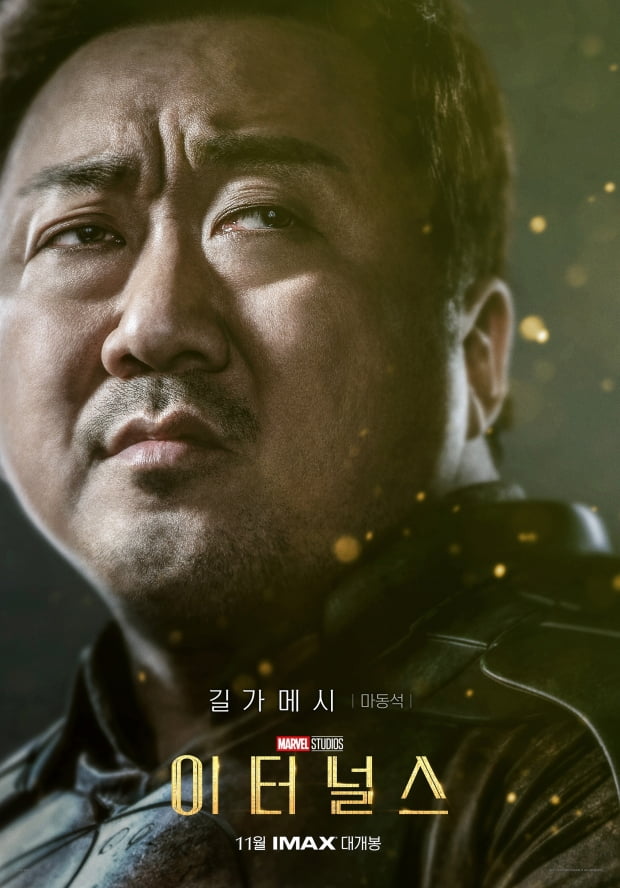 Ma Dong-seok also talked about being surprised by the scale of a Hollywood movie that costs a lot of money to produce. He said, "In the first set, which was a wasteland, a forest was made of trees and stones. It was like a mountain. There was, but director Chloe Zhao went to the cliff in front of the beach and filmed it himself. For the actors, it was a moment where they could immerse themselves in the character." He continued, "There are only 200 bodyguards, so there will be hundreds of people on set. It was surprising that they all work for one movie. , I thought it was amazing that even such big movies are trying to harmonize and converge well with each other."
Ma Dong-seok emphasized 'diversity' as the main message of this film. He pointed out the point of observation, saying, "It is a story of people of various races and nationalities coming together from all over the world to form a new family. The advantage of this movie is that you can see the stories of various people." He also said, "Because it's a superhero movie, the priority was to make it fun and enjoyable to watch." Still, he emphasized, "It is important to see who each person is without prejudice or prejudice against people based on race, gender, nationality, etc. Although each superhero has strong power and strength, it is important for these people to unite harmoniously. "I hope that we will become more powerful superheroes when we are together. I hope that we will look at each other with a slightly wider mind, coexist harmoniously and harmoniously, and not judge people by certain standards or prejudices."
Ma Dong-seok also shared his thoughts on why Korean content is loved all over the world recently. He said, "There are a lot of good works, such as director Bong Joon-ho's 'Parasite' and several TV series. I used to think that there were a lot of good content in Korea. Korea has already become the world's best content powerhouse, and I think it will continue in the future."
Regarding his future plans, Ma Dong-seok said, "I will do my best silently as I have done in the past." He continued, "There are a lot of global projects planned after that. There are movies I make, movies I make in Hollywood, and movies that I appear in. I want to make interesting movies that people around the world can see. There are many good works coming out in Korea too. I hope that more content will come out so that more people can see it."
'The Eternals' will be released on November 3rd.
By Kim Ji-won, staff reporter for Ten Asia [email protected]
© TenAsia, unauthorized reproduction and redistribution prohibited
.