Progress, workers drilling artesian wells in Krabi Then a gas surged up and caught fire. The last two workers were wounded and the fire was extinguished after firefighters mobilized water and rain fell. It is expected to be biogas, suggesting cement plant to close the well.
In case of drilling an artesian well Then a gas surged up and caught fire. Causing 2 borehole workers to injure in the rubber wood factory Paradome Company Limited, 22 Village No. 2, Ban Nam Chan, Krabi Noi Subdistrict, Mueang Krabi District Most recently at 2 p.m., after firefighters tried to extinguish the fire for more than 3 hours, it was successfully extinguished. by using chemicals spray with water together with the rain allowing the fire to be extinguished in the end before inspecting and moving the borehole vehicle out of the accident site and preventing the scene from being approached by anyone and forbidden to light a fire near the scene Because there are fears that there may be another gas leak, while the two injured people are Mr. Sunthorn Khankhaw, 17, and Mr. Kitti Phonok, 25, who are safe. There were only minor burn wounds. But still have to sleep and be treated at Krabi Hospital.
Sutin Pornchaisuree, owner of the rubberwood factory where the accident occurred, said that after the fire was able to be extinguished, the Krabi Mineral Resources Officer came to inspect. and it is expected that the gas ejected from the well Probably biogas caused by the accumulation of plant remains and animal remains since the past Therefore, it is not considered a large gas well. and recommend to the factory Pour cement to cover the holes. to prevent gas leaking again.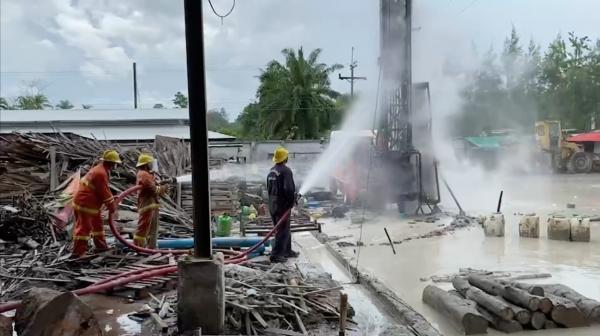 As for Mr. Pariwat Srilaeng, 17 years old, a worker of an underground drilling company Near the scene, said that at the time of the accident, two fellow workers who were injured were standing guard in the back of their personal car. They were walking to buy food at a shop in the factory, but they were far away. go again It was found that fire erupted from the hole being drilled. But there was no sound of any explosion. And the two workers' friends were burned, so they ran away from the scene. Therefore, help inform the rescuers to take him to the hospital by drilling holes. Drilled to a depth of about 300-400 meters already.
Read more…