Motorcycle parade to look at, refusing to give information on where it came from. After the crash of the fire Motorcycle crashing into a truck The shocked horse ran across the road, the car followed, and all of them died.
Follow the news. Press to follow the live news.
At 10.50 PM on May 30, 64 Police Lieutenant Colonel Chaiyut Insan, Deputy Inspector for Investigation Muang Nakhon Pathom Police Station Was notified of an accident in a motorcycle car crashed in a collision with a horse-drawn trailer There were many deaths and injuries. The incident happened on Petchkasem Road. Inbound to Bangkok In front of Tesco Lotus, Nakhon Pathom After receiving the notification, he reported to the supervisor and went to investigate with the doctor at Nakhon Pathom Hospital. Paramedics And staff of the Suk Sala Nukroh Foundation, Nakhon Pathom
Upon arriving, a fire was burning in the Yamaha Nmax motorcycle. Registration number 1 rule 20 Bangkok officials must use chemicals to extinguish the fire. It takes about 20 minutes to put out the fire. Check the condition of the car being burned, but the remains In addition, close to each other were found dead. Is a male, does not know the name. The state of the corpse died in the blood. Close to each other, a 4-wheel truck, Suzuki Carry, white, registration number 2, 52 Bangkok, at the end of a carriage, trailer, horse The condition turned sideways on the road.
A little away Found 1 more death Being a man, name unknown andOne more dead male brown horse was found, lying on the ground. In addition, close together meetYamaha motorcycle model Nmax 3 cars, condition falling on the road Two more people were injured. Health Foundation Officer, Banukroh Court First aid with transport to Nakhon Pathom Hospital Let the doctor help you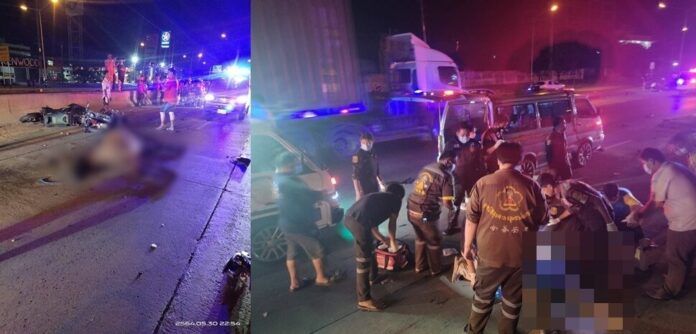 Inquiring about Thawee Udomphol, 39, a horse truck driver, revealed that before the incident, he drove from Tha Maka, Kanchanaburi Province, headed home to Samut Prakan Province. When the driver arrived at the scene of the motorcycle motorcycle of the deceased Come running at speed Collided with a trailer carrying horses Before falling and slipping on the road Until the fire flooded
Horse trailer parts Flip sideways on the road The horse was shocked. Ran away across the road to the far right lane causing the motorcycle that followed Hit the horse hard The rider died along with the horse. The other two injured people who were driving in a motorcycle followed, causing them to collide repeatedly and injure Foundation staff have been helping to bring them to the hospital. After the incident, there were many motorcycles following the incident. But unable to provide information about where they came from and where
Initially assumed that the dead and injured. May come back from the tourist And driving at high speed Upon arriving at the scene of the accident May lose core Collide with a horse-drawn carriage Before the fire flooded The horse in the car was shocked and ran across the road and was repeatedly hit by the following car. However, the police will investigate. Stakeholders, including those who saw the incident And continue to check CCTV footage for more facts