The Football Association joins Buriram United to create a new generation of "War Elephants", aiming for 3 years to be in the top 10 in Asia, with "Milos Velebit", coach of Serbia. is the head coach
On December 2, 2022 at 10:00 am in the meeting room on the 1st floor of the Football Association of Thailand office. Pol. Gen. Dr Somyot Pumpan Muang, President of the Association, together with Newin Chidchob, President of Buriram United Club, Patis Supapong, General Secretary of the Association, Carles Romagosa, technical director of the Thai national team, Chanchanok Chidchob, manager of the Thai national team Under 18 and Milos Velebit, head coach Model under 18 took part in a press conference to join hands to create a new generation of Thai national teams, aiming for 3 years to be in the top 10 in Asia.
Pol. Gen. Dr Somyot Pumpan Muang said that according to the Football Association of Thailand Under the Royal Patronage of His Majesty the King, it is open to member clubs to propose plans for the development of football. To maximize the benefits of raising the level of the Thai national football team, all age groups, to be able to participate in international football competitions effectively build a good reputation for Thailand
"The association would like to thank all the clubs for their interest, proposals and plans. is behind the technical department and the Thai national team by Carles Romagoza, technical director of the Thai national team Listen to the guidelines and consider the possibility of leading the Thai national team towards the goal. Leading to a collaboration with Buriram United Club"
"As you know, athletes in the 18-20 age range are a critical stage for footballers to step up. into a professional footballer or not, or he will disappear from the industry, so that Buriram is known to have excellent control over strict athletic discipline. In terms of fitness, nutrition, training already, these things will lead to the Thai national team. Stepping up to the goal is to continue raising standards and competition results."
"The club and Buriram United Club made a joint agreement. to build a Thai national team To enter the 2025 Asian Football Championship with the aim of becoming one of the top 10 in Asia, with Chanchanok Chidchob as the manager of this Thai national team and Milos Velebit, the coach of Serbia. is the head coach."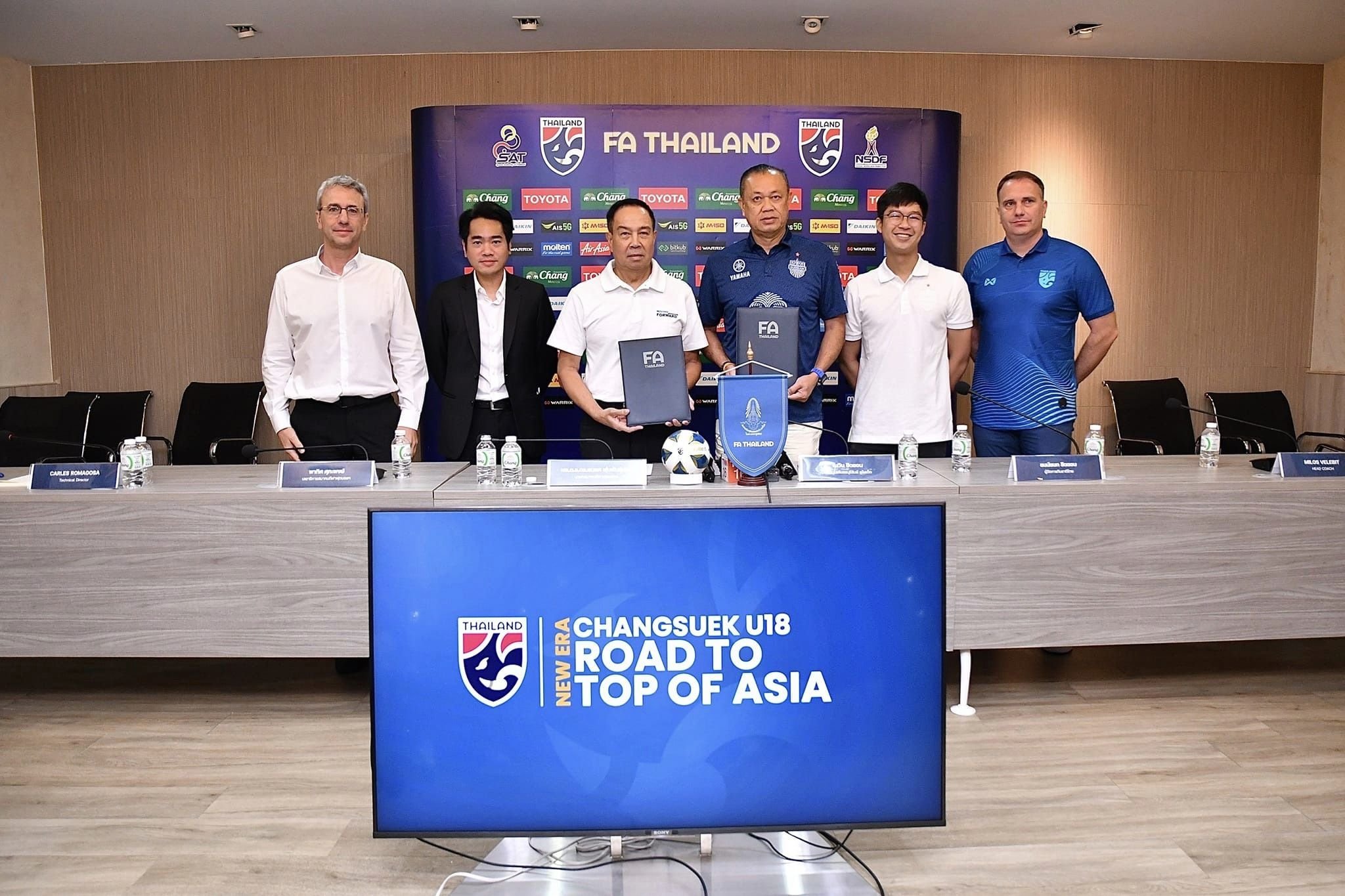 This Thai national team will be created. with a new concept of work with clear goals Select football players who are not over 18 years old (born in 2005) to keep training together for 3 years continuously.
This Thai national team There are important team building concepts that include selflessness, ethics, responsibility, good attitude, discipline, state of mind, hard work and unity, which will be the basis for Thai players to improve and develop.
The key process is that there are 4 steps:
• CHANGE Change in terms of mental development, physical condition and technique.
• ASEAN KINGS Bringing the Thai national team back to where it should be. and create happiness for football fans
• JUMP, moving forward with standards to challenge leading Asian nations such as Japan and South Korea.
• CONSISTENCY Consistency is key. in the long term development of football AND stepping up to play at world level as a stepping stone for future players
By preparing the team, there will be an athlete's feet test. which will start from December 2022 onwards, all athletes will be introverted In the Buriram United club camp, closely supervised by the coaching staff team and trained in football skills in an environment with international Standard facilities such as training grounds, pitches competition, accommodation for introverts, fitness, swimming pools and nutrition, including discipline and living on and off the field, etc.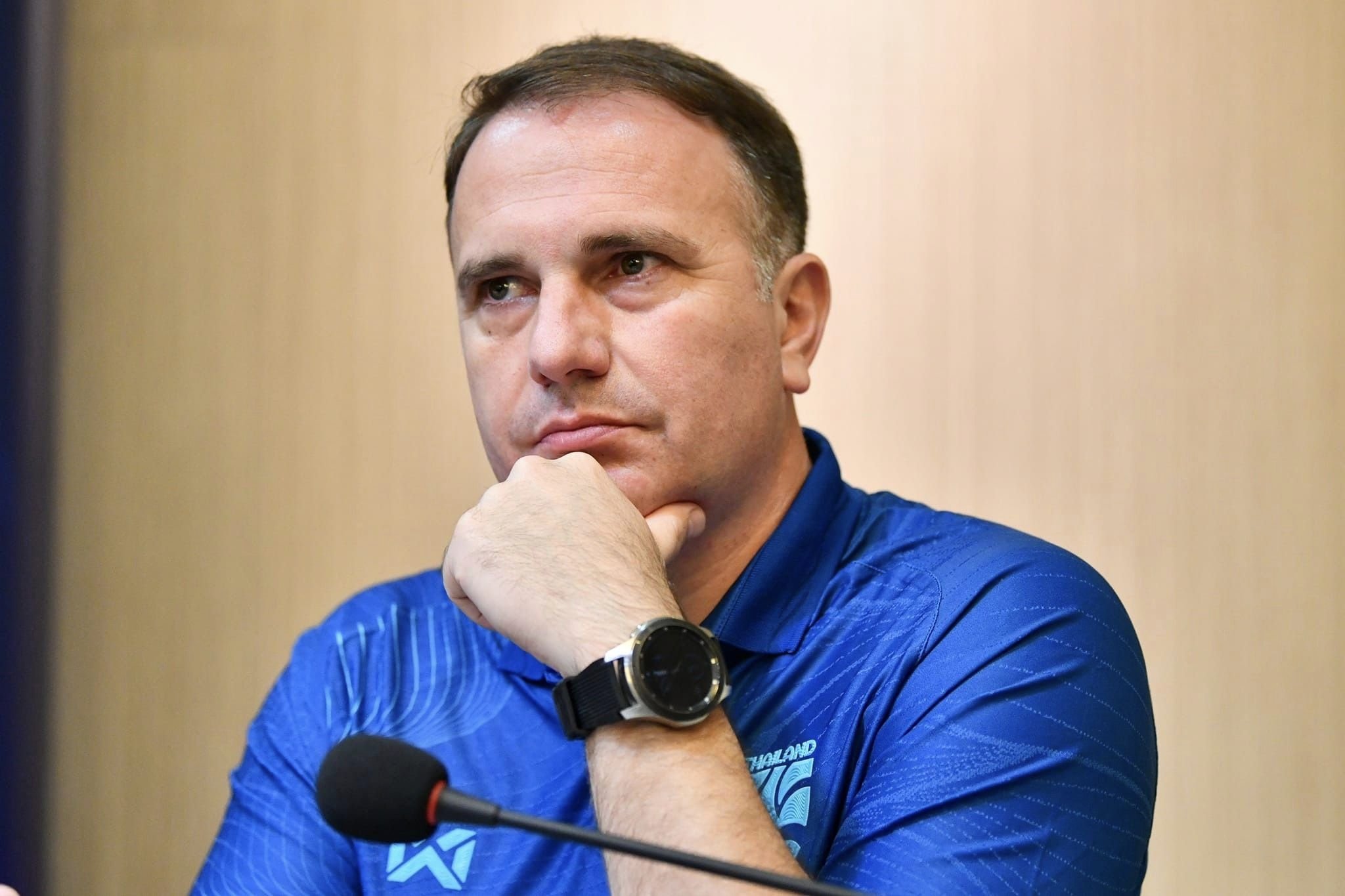 For the Thai national team coaching staff, this set is Milos Velebit, head coach and Stoyan Valan, head fitness coach.
Biography of Milos Velebit, head coach of Serbia Held a coaching license at UEFA Pro License level since 2011 when he was a football player. Former Yugoslavia national team under 17 and 19 years
His experience as a coach is as follows:
• 2005-2007 Coach of the U17 national teams of Serbia and Montenegro.
• Assistant Coach 2007-2008 Al Ahli SC (Saudi Arabia)
• FC Banat Coach 2008-2009 (Serbia)
• 2009-2010 Head Coach, Serbian Football Association under 16 team
• Coach 2010-2011 FC Sloboda (Serbia)
• 2011-2012 Chief Spokesman, Football Association of Serbia
• 2012 Coach of the Kuwait National Team
• 2012-2013 Head Coach of FC Smederevo (Serbia)
• 2013-2015 FC Jagodina Head Coaches Academy
• 2014-2015 Serbian U19 national team coach
• 2015-2016 Head Coach of Al Chabab (Kuwait)
• Head Coach 2016-2018, Serbia Under 19 National Team
• Coach 2018-2019 FC Gandhi (Greece)
• 2019 Head Coach, Azerbaijan Under 17 National Team
• 2021 head coach of the national under-19 team of Azerbaijan.