Small and medium-sized agency FNC Entertainment(9,910 +12.23%) The stock price caught fire late. This is because expectations for the box office for a girl group to debut through an audition broadcast in Japan are rising. Expectations for offline concert revenue growth also played a role in the full-fledged launch of 'With Corona'. hive(305,000 -0.49%) Large entertainment agencies, such as those for offline concerts, are also showing solid stock movements ahead of the resumption of offline concerts. Expectations for the entertainment industry are rising.
○ Will 'The Second Niju' come out? FNC this month 67%↑
On the 18th, FNC Entertainment closed at 9910 won, up 12.23%. This month alone, it rose 66.84%. During the same period, the KOSDAQ index fell 0.94%.
FNC Entertainment showed only a 1.02% increase until September this year, showing a different movement from large entertainment companies such as Hive. This is because there were no good news, such as the continued operating loss into the third quarter due to the absence of major artists. On the other hand, the stock price of large entertainment companies has jumped sharply since the beginning of the year thanks to the global success of BTS and M&A issues. SM(72,800 -5.21%)So far this year, it has risen 132.61% by the end of September, Hive has risen 88.45%, and YG Entertainment has risen 38.26%.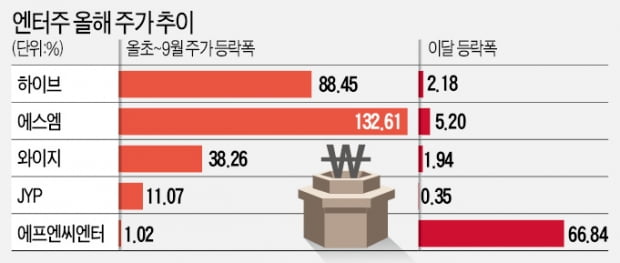 The mood of FNC Entertainment has been reversed this month. The influence of a rookie girl group that is about to debut in Japan was huge. FNC Entertainment is conducting an audition survival program 'Who is princess?' (pictured) through the weekend morning broadcast of NTV, a Japanese broadcasting company. Of the 15 trainees, the surviving 5 will debut. JYP, who debuted in the same way last year(42,800 +2.03%)There is a case in which Enter's Nijuu conquered the Japanese music industry, so this broadcast is also attracting attention.
Expectations for the resumption of offline concerts also overlapped. CNBLUE is about to make a comeback at the end of this month in a situation where the global Weed Corona trend is getting stronger, and FT Island is also likely to make a comeback this year. The two groups are the main artists of FNC Entertainment, and they are particularly popular in Japan. Japan is a region where concert tours can make a lot of money, so it is expected to benefit greatly from With Corona.
Kim Hyun-yong, a researcher at Hyundai Motor Securities, said, "The group that FNC Entertainment will debut through an audition is expected to be able to sell 600,000 albums a year, and the effect of this increase in performance is at least 50% more than before." "CNBlue and FT Island "In Japan alone, we have a combined annual capacity of 400,000, so we have high expectations for the resumption of offline concerts."
○ The stock price of large-scale entertainment companies remains strong.
The stock prices of large entertainment stocks are also firm on the anticipation of With Corona. This month, SM, Hive, and YG Entertainment rose 5.2%, 2.18%, and 1.94%, respectively. Although they have already held one rally since the beginning of the year, it seems that they are receiving strength again as offline concerts resume one by one. At the end of last month, BTS announced that they would open their US tour in November, selling 300,000 seats. JYP Entertainment's Twice also recently announced through a music video that they would soon go on a concert tour. The securities industry is still betting on entertainment stocks. Institutional investors net bought Hive and SM worth 68.4 billion won and 45.4 billion won, respectively, this month.
Analysts predicted that large entertainment stocks still have many opportunities. Park Da-gyeom, a researcher at Hi Investment & Securities, said, "Concert tours have the highest unit price and the largest profit in the music industry, but have not been resumed for nearly two years. The world tour of K-pop artists that will be resumed in the future will be on a different scale than before Corona 19."
Researcher Park maintained Hive as a top-pick, saying that BTS is expected to go on an extensive tour ahead of enlistment.
Reporter Seulgi Lee [email protected]