Wednesday, July 28, 2021, 12.29 p.m.
As of Wednesday, July 28, 2021 at 11:30 a.m., the COVID-19 Information Center reports the situation of COVID-19 infections in the country, as of April 1, 2021, 16,533 new cases, 514,498 confirmed cases, 333,268 recoveries. 4,303 cumulative deaths, cumulative data since 2020, 543,361 cumulative confirmed cases, 360,694 recovered, 4,397 cumulative deaths.
Between February 28 – July 27, 2021, there were a total of 16,427,059 doses of vaccinated recipients. On July 27, 2021, there were 284,387 recipients of the 1st dose vaccination, 43,002 second doses, a total of 327,389 cases, with the cumulative total between 28 February – July 2021, approximately 10 million
Reporters reported that Prime Minister Prayut Chan-o-cha has set a goal of vaccination at 500,000 a day and 10 million a month.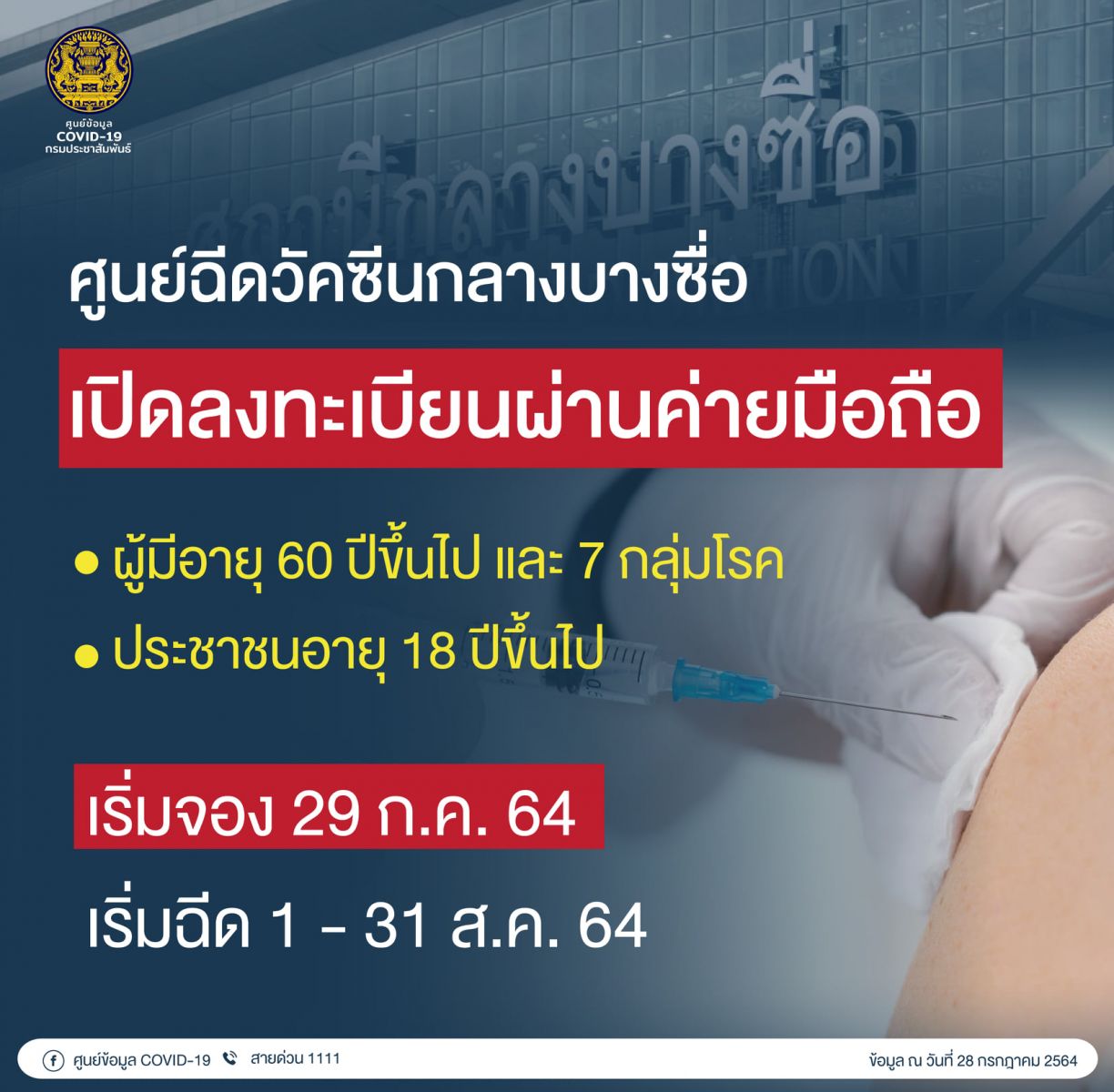 Bang Sue Central Vaccination Center Prepare to open registration for vaccination appointments via mobile phone camps 20,000 doses per day, divided into 1. General people aged 18 years and over, 10,000 doses per day
2. Elderly people over 60 years of age, 12 weeks pregnant and patients with chronic diseases such as chronic respiratory disease cardiovascular disease chronic renal disease Stroke, obesity (100 kg or more or BMI greater than
35) Cancer and diabetes 10,000 doses per day
Start booking on 29 July 64 for those who have never registered. will open registration for the covid-19 vaccine via mobile
together with
1. AIS can register at the website www.ais.th/vaccine
2. TRUE register at USSD system press *707# call or website https://vaccine.trueid.net/
3. DTAC can register at dtac app and website https://www.dtac.co.th/vaccine/registration/
4. NT can register at National Telecommunications Plc.
https://covid19vaccine.ntplc.co.th/CVC/home
Coronavirus disease 2019 (COVID-19) situation worldwide, total number of infected people 195,980,289, 85,689 severe symptoms, 177,657,967 healed, 4,192,978 deaths.
Ranking of countries with the highest number of infected people
1. United States, 35,353,923 cases
2. India, 31,483,411 cases
3. Brazil: 19,749,073 cases
4. Russia, 6,172,812 cases
5. France, 6,026,115
Thailand is ranked 45th with 543,361 cases.