The owner of the orchard was shocked! meet the giant jong ang Chasing and eating a great snake in the house. notify the arresting officer
On October 27, 2021 at 2:00 a.m. Rescue Radio Center Sawangkatanyudhammasathan Association, Chanthaburi has been informed by the people. Ask for help to help catch a snake as big as a car wheel. It is believed that it is 2 king cobras that appeared to breed in the house. The incident occurred at the house number 37/2, Village No. 7, Ban Khlong Lao, Wang Mai Subdistrict, Na Yai Am District. Chanthaburi
After being notified, they coordinated with Sergeant Nattaphon Sue-ngam, an expert on the Sorotoxicology team and the team "Mueang Chan Snake Volunteer" with equipment to travel to inspect and assist people in catching venomous reptiles.
Upon arrival, the house was found at the scene of the accident. It is a one-story cement house planted in the middle of an orchard.
By meeting with Mr. Phitsanu Kaweewong, 40 years old, the host brought the snake protection volunteer team. check in The location where two king cobras were found in the garage next to the house from the initial inspection. Found two large snakes slithering around each other. next to the tool basket Around the corner of the garage next to the house, then the way
Sergeant Nattapon has used the equipment It is a hook that separates the snakes from each other, causing the two snakes to panic and hurriedly split up and slithered away.
While one of the two slithered into hiding under the bamboo litter, Sergeant Nattaphon had to use his bare hands. Grasp the tail part and gently pull the snake outside until it was known that it was a king cobra Because as soon as it was invaded The King Cobra, approximately 4 meters long, has raised its neck and spread its hood. He turned around and prepared to snatch it in.
After that, Sergeant Nattaphon used his proficiency skills. from training and training trick the king cobra to stay calm before allowing it to slither into the plastic box provided. for the snake to hide instinctively
Later came out after another snake. that creeps in and hides under a pile of roof tiles side of the parking lot from the inspection Found that it was a large striped-tailed snake, about 3 meters long.
Sergeant Nattaphon then used his bare hands. Gradually catch the snake before put in a plastic box to be brought back to recuperate and observe symptoms before being released in the forest far away from the community
While Sergeant Nattaphon, an expert on the Asuratoxicology team and the team of "Mueang Chan Snake Volunteer Volunteer" revealed that during this period, although will still be in the breeding season of the king cobra But from the examination of this case Found that it was a king cobra and a striped-tailed snake slithering together.
like this not flirting or mating but is the behavior of The king cobra is about to eat a possessed snake because the king cobra cannot interbreed. but naturally the snake possesses will be the main food of the king cobra which is a snake together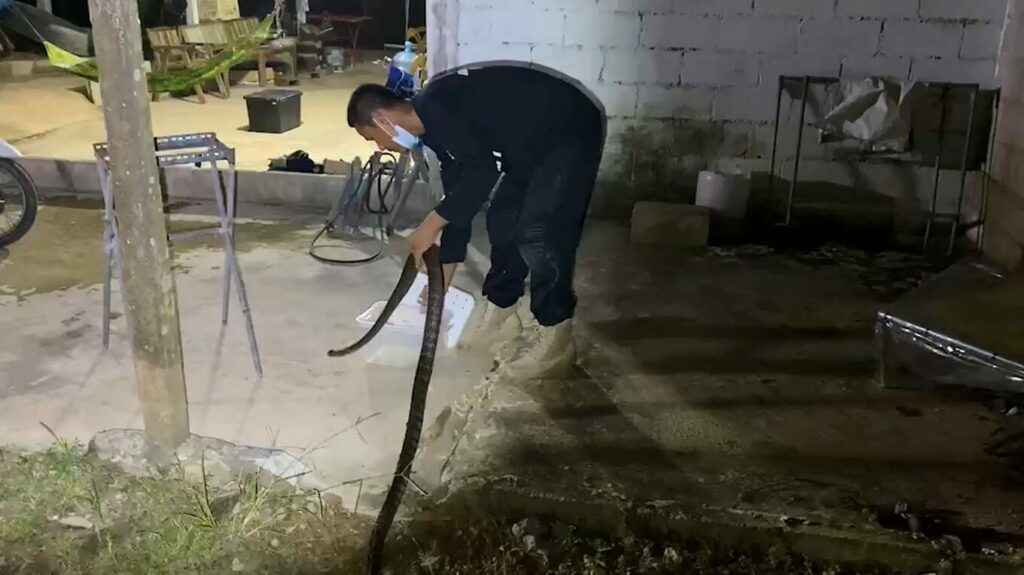 It also warned the public If you see a poisonous snake or large reptiles, promptly notify specialists. come help Don't do it yourself because the picture seen The officer caught the snake with his bare hands. have been trained in specific fields Absolutely do not imitate. May cause life-threatening