The temple set up an outdoor crematorium. The 26th Covid patient, Suphan Buri, the old crematorium is in the process of being repaired and changed from using batteries. It is a pollution-free oil.
(18 July 21) Phrakhru Phisuthratanaporn The abbot of Therapai Temple, Wang Nam Sap Subdistrict, Si Prachan District, Suphan Buri Province, Miss Chantharat Pongphan, Permanent Secretary of Sri Prachan District Assigned by Mr. Piyapong Boonsong, Sheriff Sriprachan together with Mr. Somsak Magical tradition Office of Public Health Professionals Sriprachan Hospital with public health officials The staff of the Suphan Buri Rescue Foundation Jointly organized a cremation ceremony for a patient from Covid-19, a 72-year-old man from Don Chedi District, Suphan Buri Province, died at Chao Phraya Yommarat Hospital. At the end of the day on the 18th of July ago It was the 26th death in Suphan Buri province.
The deceased was infected with covids at home in Don Chedi district, along with many congenital diseases. Until death, relatives have given to the staff of the Suphan Buri Foundation to help rescue Suphan Buri. Receive the body for the cremation ceremony at the Therapai Temple Because the Holy Temple Cremation of the dead from COVID and receive free cremation without relatives, the poor, in any case, to help people's brothers and sisters during the covid epidemic situation.
For the corpse of this 72-year-old man who died from COVID-19, the Sovereign Monastery had to bring the body to an outdoor crematorium. Because the crematorium of the temple that has been in use for many decades began to deteriorate and the kiln is an old style that uses charcoal The temple therefore needs to speed up the renovation of the old charcoal crematorium. to be a pollution-free oil system Currently in the process of accelerating the renovation of the crematorium. therefore had to bring the kiln to set up a floating crematorium outdoors to perform the cremation ceremony for the deceased from COVID-19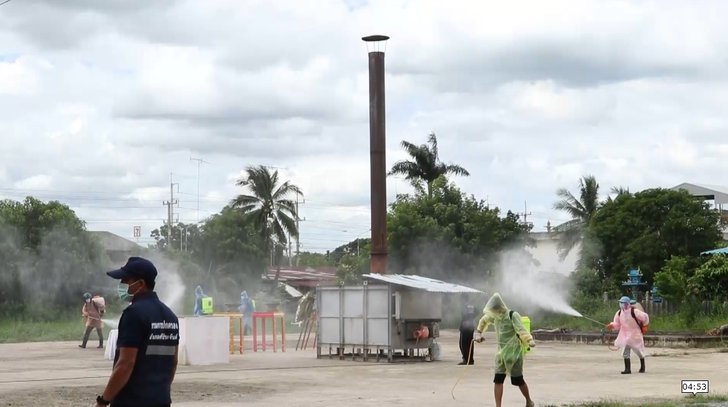 By the way, the temple has coordinated with the public health officials together with the administrative officers of Sri Prachan District. The staff of the Suphan Buri Rescue Foundation to strictly control the measures of public health both limited to those who attended the ceremony Make everyone wear a mask. Wash your hands with alcohol gel. Keep distance. Spray disinfectant throughout the area. for everyone's safety and to prevent the spread of COVID-19
However, now the Holy Spirit Temple There is still a shortage of funds to improve the crematorium from the old system using charcoal. To be a crematorium that uses no pollution. As for the philanthropists who have faith, they will contribute funds for the reconstruction of the crematorium at Wat Theraplai. You can make merit and contribute to the fund by donating to the account of Therapai Temple, Krung Thai Bank. Sri Prachan Branch, account number 980-7-57282-7 For more information, please call 080-265-8665.
.