'2022 Economic Outlook' by Seo Young-soo, an analyst at Kiwoom Securities

"If it goes like this, 200% of GDP, there has never been a figure like this"
As of the second quarter, Korea had the highest household debt as a percentage of gross domestic product (GDP) among major countries in the world. According to the International Finance Association (IIF) on November 15th, according to the 'World Debt Report', Korea has the highest debt at 104.2% among 37 major countries in the world (one statistic for the euro area), and the rate of increase also increased in the second quarter of the previous year (98.2%). It was announced that it was the fastest, up 6%p compared to the previous year. In the report, the IIF said, "In the first half of this year alone, global household debt increased by $1.5 trillion (about 1771.2 trillion won) along with the rise in housing prices. In particular, Korea and Russia stood out."
It could be 200% of GDP.
One step before the announcement of the IIF, there was one who pointed out the seriousness of "Korean household debt is at the highest level in the world." Seo Young-soo, director of the corporate analysis team at Kiwoom Securities Research Center (pictured), in his recently published book '2022 Inescapable Debt Crisis', said, "Korea's actual household debt is 1933 trillion when including personal business loans and rental deposit debt, which are omitted from personal financial debt. It is estimated to be about 3200 trillion won, which is 162% of GDP, and if it continues at this rate, it could reach 4000 trillion won by the end of 2023," he warned. I asked him, who had published the 'Korea Household Debt Report' in 2019, about the causes and solutions of the increase in household debt.
He said that Korea's household debt is at a serious level.

"In Korea, there are no statistics to assess the overall risk of household debt. As a result, depending on the situation, household credit (household loan + credit sales) and personal financial debt (household credit + debt for small business owners and non-profit organizations) are used. will be. However, there are some things missing from personal financial liabilities. If they are included, the total household debt will be about 3200 trillion won, and if household loans are included, it is expected to be over 3500 trillion won. If calculated in this way, it is 160% of GDP, and if household debt increases to KRW 4000 trillion, it will be 200% of GDP. . When considering debt risk, the worst case is to invest in assets that are not voluntary risk management, and I think a lot of money has probably been invested in real estate. Moreover, since last year, as the 2030 generation, who have relatively low repayment ability, joined the housing market, the number of irrational loans used for asset investment increased. If you compare the current situation with the subprime mortgage crisis in the US in 2007, we have 80-90% of our interest-only loans in the loan structure, much higher than the 50% in the US."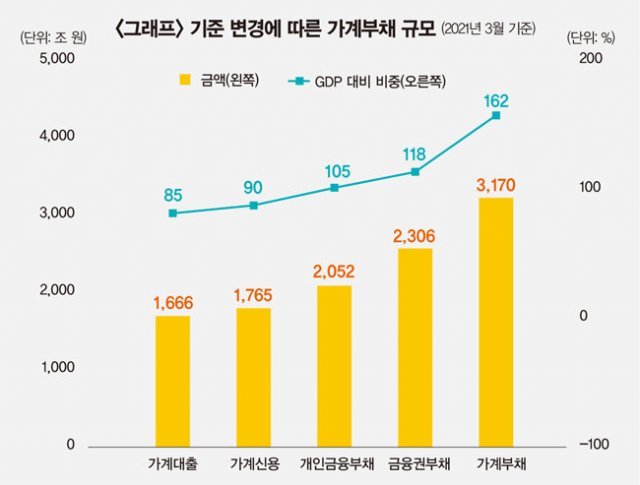 I was concerned about the collapse of the real estate and stock markets due to the debt crisis.

"If we translate the current real estate market into stocks, we can say that apartments are the KOSPI, multi-family houses are the KOSDAQ, and shopping malls and land are management items. The KOSPI trades well and is a stable market, but the KOSDAQ tends to plummet due to external shocks if high-risk investments are made through credit transactions. Currently, one such external variable is US inflation. If this materializes, it will lead to interest rate hikes. Experts believe that the rate hike will start as early as the end of 2022, or as late as 2023, but I think it will be more than six months earlier. If the US raises interest rates steeply, we are likely to raise interest rates every month. In that case, the impact on global liquidity would be huge, and I think Korea might be the weakest link."
A reality that is not welcomed by the house price stabilization policy
Is there any way to stop the crash?

"We need to stabilize house prices so that debt does not increase anymore, but it is not an easy task. House price stabilization is not just asset price stabilization, but debt restructuring and economic reform. The real estate bubble problem has been pointed out for a long time, but it is difficult to solve. This is because many people sympathize with the stabilization of house prices and the risk of loans, but they do not want the decline of my house, nor do I want to reduce my loan limit. In a capitalist society, this kind of greed is natural, and touching it makes it an unpopular policy. Looking at the real estate pledges of next year's presidential election, both parties are real estate stimulus policies, not stabilization policies. In the end, supply expansion is the key, which is a real dilemma. If you supply a house, someone has to buy it, but you can't buy it with your current income, so you have to borrow money at a low interest rate.
How did foreign countries deal with this?

"There is a way to burst like the subprime mortgage crisis in the US, and a way to dramatically raise house prices and reduce the cost of holding like in Taiwan or Singapore. If the house price rises too much, you can't buy it, so your purchasing power is low, making it impossible to trade. Of course, this is not a complete solution, and passing on all the cost of the house to future generations. The policy seems to be going like Taiwan and Singapore now, but what cannot be predicted is that Korea is basically an open economy system, so if it is shocked by external factors while using extreme leverage, a collapse is bound to come."
Jeonse loans were cited as the cause of the bubble in the real estate market. Why is the policy that came out in 2009 a problem now?

"When the Jeonse loan was first introduced, the purpose was to stabilize the housing of the underprivileged. So, at that time, the loan limit was low and the interest rate was high. Then, after the global financial crisis in 2008, when the economy could not be stimulated no matter what he did, he found a way to raise house prices as part of the stimulus package. This is because the purchasing power of the jeonse tenants increases and the price of jeonse rises when the Jeonse loan is applied. The problem is that in 2016, when Seoul Guarantee (SGI) raised the limit to 500 million won, it became available to virtually all classes, not just a specific class, so the rent rose and gap investments were actively made, leading to a full-fledged rise in house prices. At that time, there was no regulation on gap investment, so it was possible to make gap investments using the Jeonse loan."
People have a lot of resentment against the government regarding house prices.

"The decisive reason why I wrote the book is related to that, so that even if I criticize, I want to distinguish between what is good and what is wrong. The biggest problem right now is that every policy the current government has introduced has been criticized, and it is coming up with worse alternatives. As a result, we came up with a policy of expanding supply again. Of course, it is a policy that everyone likes because cheap houses are supplied in the short term and the Gyeonggi Province gets better. There is a part that the general public misunderstands a little. They think that strengthening loan regulations will make it difficult for the common people, but the reality is different. A significant portion of household debt is held by wealthy people, high-income earners, and high-credit people. The problem is that they have too much debt for their ability, and they are the ones who suffer the most from loan restrictions. The actual loan for the vulnerable is less than 3% on a bank basis."
Prepare for a crash by holding cash equivalents
How do you manage your risk if you are investing in an asset with a loan?

"It is very unfortunate that if this kind of problem occurs in a few people or some of the vulnerable classes, it is usually sorted out. Therefore, it is difficult to say that 'this is the correct answer', but risk management is still necessary to some extent. The investment form is now spreading to commercial real estate, land, officetel, and multi-family housing, and it is dangerous to participate in it. When house prices stop rising, a so-called 'bite' situation occurs. Apartments have good durability, so you can wait for a long time to expect the next rise. However, multi-family houses, etc. have severe depreciation, and commercial buildings are vulnerable to interest rates, so there is no transaction in the housing market itself. can be lost."
How to manage stock investment risk?

"As loan regulations were strengthened and DSR (total debt repayment ratio) was introduced, credit loans were most affected. Credit loans are a very important source of funds for the 2030 generation's stock investment, but as they decrease, they tend to become increasingly high-risk investments. In addition, stocks that have risen a lot as the amount of investment has decreased is very likely to weaken. What is certain is that there is a lot of volatility, and we have to be open to the possibility of a crash."
Crisis can lead to opportunity.

"In the end, the real value will fall and the cash value will rise. At that time, the value of dollar-denominated assets will rise more than the won, so it would be good to build a portfolio around assets that can hedge against inflation."
※An interview with Seo Young-soo, director of Kiwoom Securities, which contains more detailed information on household debt, can be viewed on Donga Magazine's YouTube channel.

*You can find various investment information by searching for 'Two Bengers' on the portal and following the post.
Reporter Lee Han-kyung [email protected]
close the window
Recommend an article
"The world's largest household debt-to-GDP ratio, an inevitable crisis is coming"
Best Featured News