The director of the Surat Thani Hospital is stressed and has problems with his colleagues. kneeling in the middle of the road Fired four shots into the air, shot himself in the head but ran out of ammo. Police and good citizens come to charge
Today (24 November 64) at 10:00 a.m. Pol. Lt. Col. Nikhom Yajom, deputy senator (investigation) at Ban Phue Police Station, Udon Thani Province, received a report of a man who shot a gun and tried to kill himself. He died at the intersection of rural road maintenance. Intersect with Plub Phue Road Ban Phue Subdistrict Municipality Therefore, the police force to rule and rush to the scene. They found villagers looking to see Mr. Prachit, 48, director of a sub-district health hospital in Ban Phue district, wearing a yellow shirt. yellow scarf black pants Kneeling in the middle of 3 intersections, the police kept people away from the area, away from the bullets.
Mr. Prachit, holding a .38 caliber revolver, spoke to his colleagues about his troubles. therefore came to sit in the middle of Ban Phue District The police then persuaded them to drop the gun. But Mr. Prachit refused and still spoke in his heart. With 4 shots fired into the air, the police followed Ms. Sasithon. Mr. Prachit's wife who is a nurse at Ban Phue Hospital rushed to the scene with colleagues coming to join
wife seduce
Mrs. Sasithon went to sit and spoke persuasively. But the husband still refused to put down the gun and fired one more shot into the sky and continued to vent his mind and raised the gun to the sky with a loud bang. So he pointed a gun to his temple and pulled the trigger again, hoping to blow his brain. But the gun shot again So put the gun on the ground and put his hand in the pocket, expecting to put a bullet in it. The police therefore used the timing to charge, arrest and seize firearms. Take the ambulance to Ban Phue Hospital. to calm down
Police Lieutenant Colonel Nikhom Yajom, Deputy Inspector (Investigation) of Ban Phue Police Station, revealed that from the preliminary investigation that Mr. Prachit has a problem with his colleagues. make a lot of stress The firearm belonged to Mr. Prachit, which was purchased legally. When Mr. Prachit calmed down will be brought to investigate for prosecution "Bringing firearms into towns, villages, and public places without reasonable cause. shooting in towns, villages and public places without reasonable cause" to continue the legal action.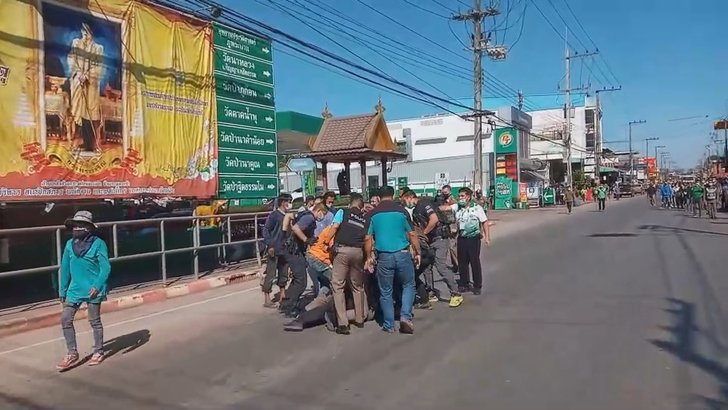 .