The Tokyo Olympic Organizing Committee has fired comedian Kentaro Kobayashi, 48, as performance director (show director) just one day before the opening ceremony. This is because it was later revealed that the Nazi genocide was a gag material 23 years ago, and a Jewish human rights group in the United States even issued a critical statement.
Famous musician Keigo Oyamada, who was in charge of the music for the opening ceremony, resigned on the 19th (see related article) due to the brutal school violence that he committed decades ago when he was in school, and members of the creative team for the opening ceremony resign one after another just days before the opening has happened The value of the Tokyo Olympics, which was based on 'diversity and harmony' as the ideology, was seriously damaged in that both resigned due to past anti-human rights behavior.
Kyodo News reported that Kobayashi, who was in charge of directing the performance of the opening ceremony on the 22nd, was dismissed, an official from the organizing committee said. This seems to be because a video of him making a gag about the Holocaust in the past quickly spread on Twitter and received criticism. The video in question is a scene from a video released in May 1998, when Kobayashi was in the early days of forming the two-member gag duo 'Ramenz'.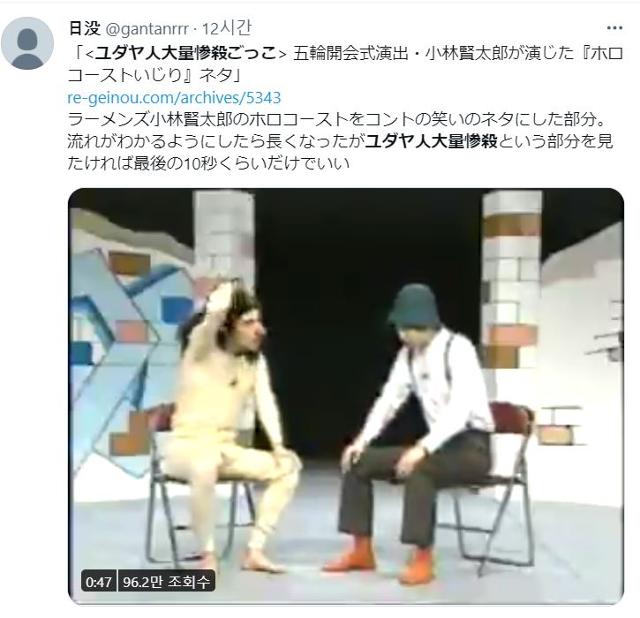 video(direct view) is a part of a contest that proceeds with the setting that two people discuss how to create a program. When one person suggested, "How about making a baseball field made of letters?" the other person replied, "Isn't that okay? Shall we try? Because there are a lot of papers cut in the shape of people like this." Then the other person said, "Really? Oh, when I said 'Let's play that genocide game (ごッコ)'," he said in a caricature of the Holocaust. Although it was 23 years ago, critics have been criticized that there is a problem in comparing the Holocaust, a tragedy of mankind, to 'play' and using it as a gag material.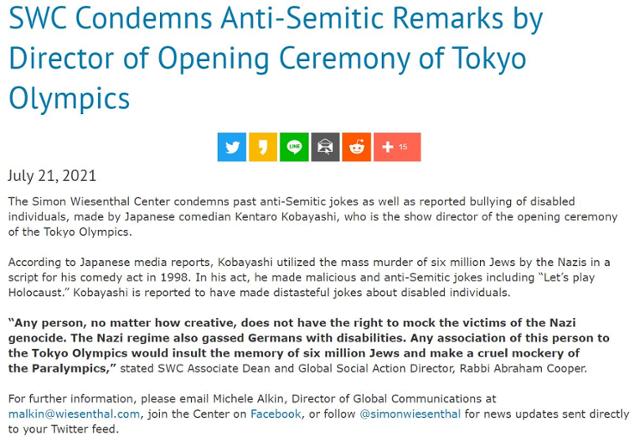 On the 21st (local time), the American Jewish human rights group, Simon Wigental Center, released a statement criticizing Kobayashi in relation to the video. "Kobayashi made malicious and anti-Semitic jokes such as 'Let's play the Holocaust'," the statement said. "No matter how creative a person is, he has no right to laugh at victims of the Nazi genocide," he said. "For this person to relate to the Tokyo Olympics is an insult to the memory of 6 million Jews and a cruel mockery of the Paralympic Games."
Jinju Choi correspondent [email protected]
Balance to see the world, Hankook Ilbo Copyright © Hankookilbo
Issues you may be interested in
https://platform.twitter.com/widgets.js .