It is predicted that the Bank of Korea will take a big step (a 0.5%p increase in the base rate) next month following this month.
According to the Chicago Mercantile Exchange Group's 'FedWatch', a tool for predicting US interest rates on the 20th, the US Federal Reserve (Fed) took a giant step to raise interest rates by 0.75%p at the Federal Open Market Committee (FOMC) meeting to be held on the 26th and 27th. 66.8% of the respondents expected it to be implemented. The remaining 33.2% predicted an ultra step to raise interest rates by 1.0 percentage point at once.
The reason why the FOMC is concerned about whether it is a giant step or an ultra step is that the US Consumer Price Index (CPI) recorded 9.1% in June. It was not only higher than the CPI of 8.6% in May, but also the highest since the 1980s when prices soared due to the second oil shock.
Oil prices aren't too bad either. After US President Joe Biden's unsuccessful return from Saudi Arabia, it again crossed the $100 mark. The current inflation (inflation) is largely driven by external factors such as oil price disruptions in the supply of raw materials.
Korean prices also show no sign of falling, with the CPI recorded at 6.0% in June. The BOK and the government expect inflation to rise in the high 6% range in this month and next month as well.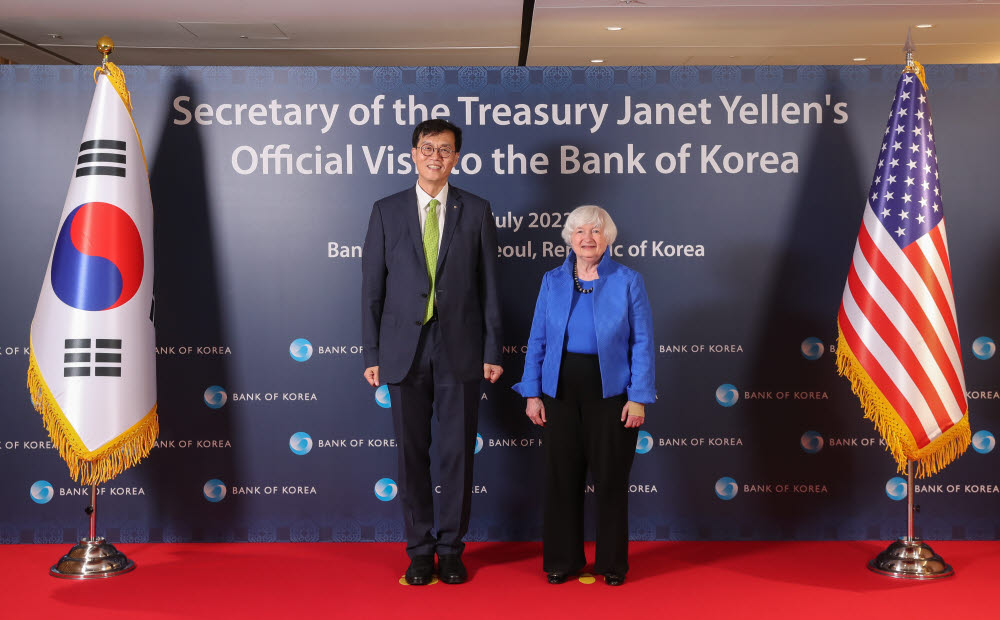 The fact that US Treasury Secretary Janet Yellen's visit to Korea did not make progress on the expected currency swap also raises the possibility of a big step. Not only Lee, but also President Yoon Seok-yeol, Deputy Prime Minister and Minister of Strategy and Finance Choo Kyung-ho came to an agreement on the stabilization of the foreign exchange market and liquidity supply, but Yellen made no mention of currency swaps. A currency swap is a contract that allows Korean won to be deposited with the US and borrowed in dollars.
The exchange rate is still high. On the 15th, for the first time in 13 years and 2 months, the won-dollar exchange rate broke through 1,320 won, maintaining the 1,300 range. In addition, if the US takes a minimum giant step, the US base rate will invert the interest rate by more than 0.25%p higher than ours, so we should be worried about the won depreciation and capital outflow.
Experts are still predicting a 0.25%p increase at the next MPC meeting, but there are opinions that an additional big step may be taken if the dollar's strength is maintained. "If the economy goes as expected, it is desirable to adjust it to a 0.25 percentage point increase," Lee said, but left room for a change in policy stance if inflation accelerates further.
By Kim Min-young, staff reporter [email protected]