The war in Ukraine will probably end in months, not years, an adviser to the head of the president's office, Podoljak, said in an interview.
Ukrainian Central Bank Governor Shevchenko resigns suddenly due to health reasons It will be another blow to the war-torn economy.
Russian Defense Minister Shoigu said 200,000 people had been mobilized since the "partial evacuation" was announced last month. But Russia's neighbors report that many more people are fleeing Russia.
Recent developments regarding the situation in Ukraine are as follows.
Ukrainian forces continue to march in the east and south
Ukrainian forces have recovered large territories in the last 24 hours around the strategic province of Liman in eastern Donetsk and north of Kherson province in the south, according to the Institute for War Research in the United States. Russian forces defeated in these areas were previously considered to be among the best conventional forces in the Russian army. Russian missiles hit the city of Kharkiv overnight, killing one person, an official said on Telegram.
The governor of the central bank of Ukraine resigns for health reasons
The governor of Ukraine's central bank, Shevchenko, 49, has suddenly submitted his resignation to President Volodymyr Zelensky. They say it's for health reasons. Ukraine is struggling to stabilize its wartime economy. Shevchenko has been the governor of the central bank since July 2020.
Ukraine's economic troubles
Reconstruction costs are expected to reach 349 billion dollars (about 50 trillion yen) (as of June 1)
The government of Ukraine needs $5 billion a month in fiscal spending
The inflation rate was 23.8% in August, and the economic growth rate in April-June (second quarter) was -37.2%.
The US president talks to Zelensky on the phone, promises additional arms supply
US President Biden had a phone call with Ukrainian President Volodymyr Zelensky to pledge additional security aid worth $625 million. The new package includes the high mobility rocket artillery system "HIMARS", ammunition, and armored vehicles. announced by the White House.
United States to announce price caps on Russian oil within weeks
The Group of Seven countries (G7) could announce plans in the coming weeks to place formal price caps on Russian oil, said Assistant Secretary of the Treasury for US Economic Policy Harris. The announcement will be "well before December 5," he said. On the same day, European Union (EU) sanctions on Russian oil exports will come into effect.
War ends in months, Zelensky aide
A war is highly unlikely to last for years at the current pace of arms supplies to Ukraine, and faster supplies could help end the war within months, an adviser to the president's chief of staff, Podoljak, told Bloomberg, in television interview.
"I think in terms of months, not years," he said. He said peace talks with Russian President Vladimir Putin would not be possible until he was defeated militarily, adding: "I am not overestimating the risk of Russia using nuclear weapons." He added that 10,000 Ukrainian soldiers were lost in the war and many more were injured.
More than 200,000 people have been mobilized by "partial movement", more than that are going abroad
Russian Defense Minister Shoigu said Russia has assembled more than 200,000 troops since Putin ordered a partial mobilization on September 21. A Russian news agency reported on the 4th.
But according to Kazakhstan's interior minister, the number of Russians who have entered the country alone is similar to this number. Georgian authorities said around 69,000 Russians had entered the country by September 30. Almost the same number of people are entering the EU.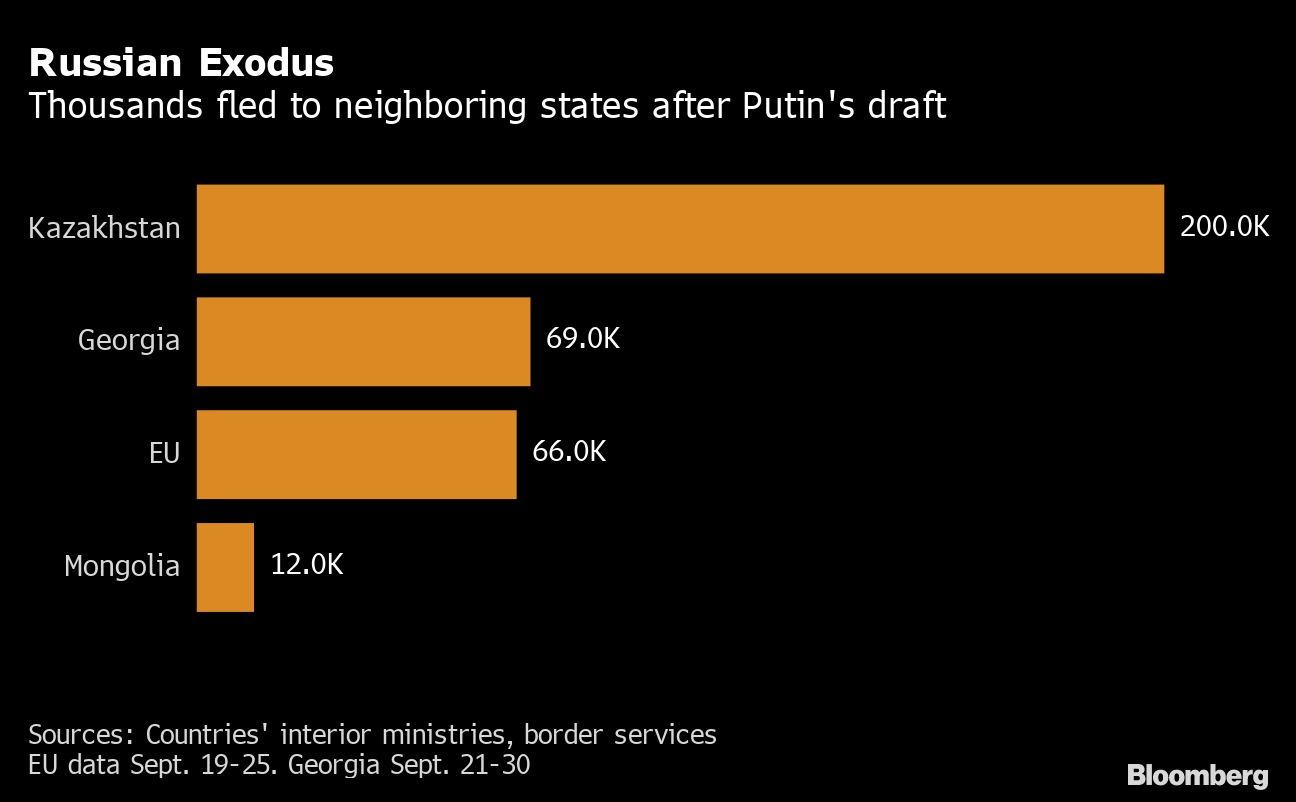 Opposing Navalny resumes protests throughout the country
An aide to Russian opposition leader Alexei Navalny said he was resuming protests across the country. Taking advantage of the growing public dissatisfaction with the war in Ukraine.
Belarusian president admits he supports Russia's war
Belarusian President Lukashenko has confirmed his country's participation in Russia's "special military operations". This is the first time he has admitted it publicly since the Russian invasion of Ukraine. Participation is limited to prevent it from spreading to Belarus, he said, adding that he is protecting Russian forces in the country from attack and providing medical aid.
Zelensky officially rules out talks with Putin
President Zelensky signed a decree effectively banning any negotiations with Putin. This was revealed in a document published on the official website of the Ukrainian president. It implements a decision by the National Security and Defense Council, stating that Putin is "not open to negotiation."
news-rsf-original-reference paywall">Original title:
news-rsf-original-reference paywall">Ukraine Latest: Zelenskiy Aide Sees War Over in Months Not Years (抜粋)