The US Department of Commerce announced on Friday (30th) that the core personal consumption expenditure price index (Core PCE) rose sharply again in June, with an annual increase of 3.5%, which was higher than the previous value of 3.4%. Although slightly lower than market expectations, it continued to rise sharply. The fastest growth in 30 years.
The core PCE is an inflation indicator that the Fed pays attention to. On a monthly basis, the core PCE index increased by 0.4% in June, lower than the expected 0.6% and the previous value of 0.5%.
The data shows that the PCE index increased by 4% annually in June, and is expected to be 4.1%. The previous value was revised up from 3.9% to 4%; the monthly increase was 0.5%, higher than the expected 0.7%, and the previous value was 0.4%.
The soaring prices are largely related to the restart of the economy, coupled with the shortage of materials and labor caused by the epidemic, companies cannot meet the rapid rebound in demand since the epidemic. These restrictions further push up prices and erode consumers' purchasing power.
Fed Chairman Jerome Powell also said on Wednesday (28th) that inflation has risen significantly and may be at a high point in the next few months. As the economic restart continues, supply chain bottlenecks are expected Factors such as manpower recruitment and other factors may continue to limit the speed of supply adjustments, raising the possibility of higher and longer-lasting inflation.
However, personal income and expenditure data in June were better than expected. Personal income mainly reflects salary growth, with a monthly increase of 0.1%, which is better than the expected -0.3%. The previous value was revised down from -2.0% to -2.2%.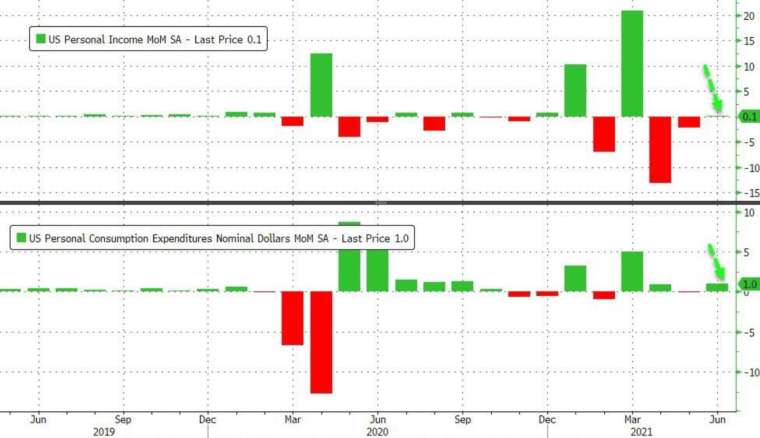 On the other hand, personal spending increased by 1.0% monthly, better than the expected 0.7%. The previous value was revised down from -0.4% to -0.6%. Affected by the base-period effect, the annual growth rate of income and expenditure was 2.3% and 13.6% respectively.
---