Valve has released the SteamOS 3.2 update.
SteamOS version 3.2, the operating system of the portable game console Steam Deck, updated on the 27th, includes improvements such as refresh rate adjustment, cooling fan operation, own screen resolution option, and external memory format function.
Steam deck players will be able to adjust the display refresh rate in-game via the SteamOS 3.2 update. The default setting is 60Hz (frames can be limited to 60, 30, 15fps), but after an update, the refresh rate can be lowered to 40Hz (frames can be limited to 40, 20, or 10fps). It can also be set to any integer value between 60Hz and 40Hz, which is useful for users to balance between frame rate, game quality and battery usage.
From a professional standpoint, Valve claims that technically 40Hz is the most stable balance of responsiveness, consistency and smoothness. At 30 Hz the refresh rate is 33.33 ms per frame and at 60 Hz it is 16.66 ms per frame, while at 40 Hz it is 25 ms per frame, exactly halfway between 30 Hz and 60 Hz. .
He also added that it's more stable to stick to 40Hz than to cycle between 42Hz and 48Hz in games when the refresh rate is 60Hz, since it's good to have a stable framerate. Of course, it drains more battery than setting it to 30Hz, he said, but it still provides relatively high quality for a small amount compared to a game with the highest refresh rate setting.
SteamOS 3.2 introduces an all-new OS-controlled fan performance curve to personalize the cooling fan capabilities of your Steam decks. Overall, the fans are more efficient, faster, and quieter for work on and off the Steam deck, especially in low-usage situations. For users who prefer the old way of working, you can always change back to the old BIOS-controlled way in System > Settings.
And it includes more native screen resolution options to choose from depending on the game, the ability to format properly for microSD cards, and audio improvements that now allow you to increase the speaker's maximum volume even higher.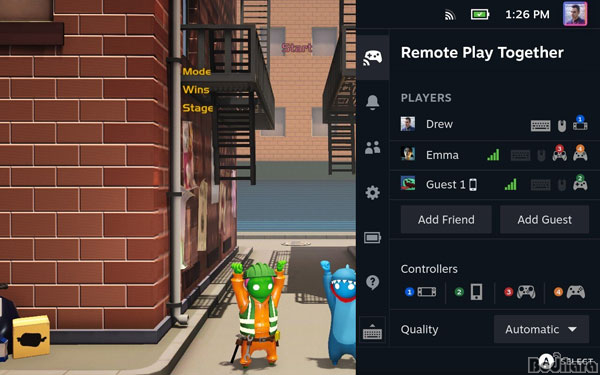 Meanwhile, along with the SteamOS 3.2 update, the Steam Deck Client feature will also be updated.
The Remote Play Toghther feature, which allows distant friends to join your game, works fully on the Steam deck, and a feature has been added to notify you when the Steam deck SSD capacity is less than 2GB.
Also improved the performance of the Night Shift keyboard theme, added the ability to name controller layout commands, added icons for gamepad and mouse commands to display in the in-game virtual menu, fixed an issue that could not connect to hidden wireless networks, running applications Added a function to close the window when there is more than one mark on it, and the ability to change accounts in the power menu.