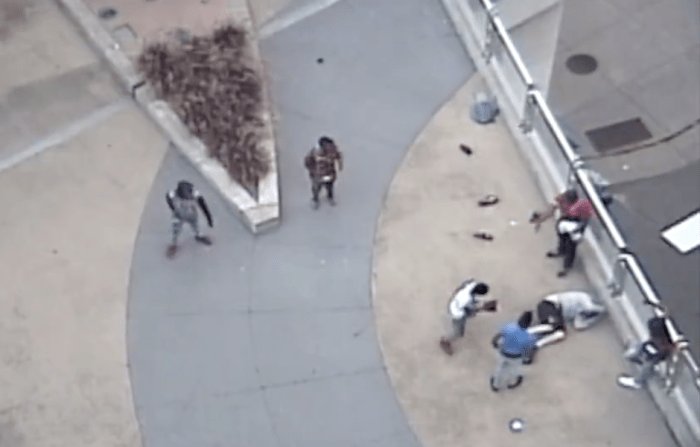 Vigilance videos on brutal robberies in the middle of Minneapolis are spreading the internet – and reviving debate about the need for more cops in the city.
The videos came on LiveLeak and on YouTube last week, and the largest observed was a large group of young people attacking and hitting victims near Target Area (WARNING: The film is very violent) :
At one point in the footage, one of the analysts goes on a bike over the victim's breast.
The video on LikeLeak has received over 116,000 views, and over 43,000 on YouTube; Meanwhile, the story about this and other similar downtown robberies has been collected by the international press.
This includes the Daily Mail in the UK, which is another video by its article depicting an attack that occurs near some light rail tracks. The victim in this case is left unaware of the attack:
As this KARE 11 piece evokes, the footage is a renewed debate in the recent pressure made by Mayor Jacob Frey to add more officers to the city's police force.
The station says that Frey sees the videos as "a window on the need to hire more officers," with the mayor saying that more cops on the beat could prevent "some of these serious crimes before this." they happen first. "
Last month, Frey and Chief Medaria Arradondo recommended more people who employ police, and the chief of 400 additional police officers asked about 2025 to keep pace with a rising population.
Frey wants to hire 14 new prisoners in the coming year, but both proposals met with the City Council as well as members of the black community, some of whom delayed Frey's budget last month by talking on " Jamar Clark "and the city to claim. "fund our communities, not copies":
As the City Pages report, the City Council drew voice criticism from Minneapolis business owners, who say that suburban visitors are "too afraid to visit them, and that boatmen are relieving early so they won't be marks. "
However, FOX 9 reports that the police recently arrested 16 people for suspected robbery, and that one of the victims was "as young as 13."
.
Leave a comment