Villagers parade to pay homage to termite mounds, similar to "Naga", appearing at the monastery in Surin. The owner who believed in the Naga warned him to hurry up and build a statue. The gambler asks for "lucky numbers" for the 1/11/21 draw.
On October 22, 2021, reporters report on the atmosphere. At the Dhammanusorn Monastery, Ban Tha Dan, Ko Kaeo Subdistrict, Samrong Thap District, Surin Province that there are villagers who heard the news that There is a termite mound similar to a serpent. It is located next to the stairs of the meditation center accommodation. So they came together to see with their own eyes. It is believed that it is a serpent named "Phaya Mujalin Wisutthithewa".
The landowner brought 99 boiled chicken eggs, desserts and colorful sweet drinks. used to make a ceremony to pray for good luck And some people bring incense and candles in their hands to pay homage to the fortune before the lottery day. The number of incense that the villagers and the owner saw was 260.
In addition, some people have also brought tape measure to measure the termite mound. To take the size of the number to gamble by Wat Chom Pluak Phaya Naga, 25 centimeters high
For encountering a serpent-like termite mound Occurred after a group of relatives from Bangkok and villagers in Koh Kaew sub-district Discussed whether to build a Naga statue. Four days later, the termite anthill was found. which is shaped like a serpent It has a head, body and tail, and it looks like it will grow up.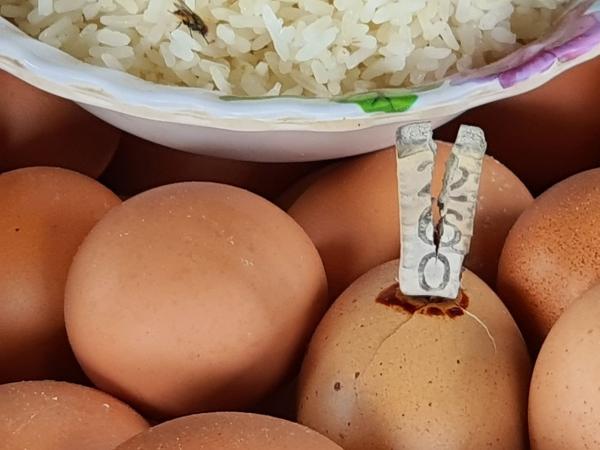 Mrs. Sida Sathorn, 52 years old, the land owner, said that when she was a child, she often used to put a hook around this reservoir. When rowing out, they often see snakes slithering along the boat they are rowing on. Using a paddle, he refused to go. which will be like this very often Make you think that the serpent is real? until he came back to build a place to practice dharma So think back on this matter. Today he has brought flowers, incense, candles, fruit and 99 boiled chicken eggs to offer to pray for good luck with a lucky number and has named the serpent anthill called "Phaya Mujalin Wisutthewa"
Mr. Praprabchai Kaewwichian, Sita's husband, said that he had a group of students from Bangkok. and villagers in Koh Kaew sub-district Discussed to build a statue of a serpent. After concluding that it will definitely build After that, termite mounds were formed. resembling a serpent It means that you want to come up and warn them to quickly create and also say that this kind of story depends on the beliefs of each person. As for himself, he believed and believed that the serpent was true since ancient times.
Read more…