Launched the latest 5G smartphone Vivo V23e 5G officially under the concept. 'Clear every moment that is you' Raises the selfie function that will make it easier for users. with state-of-the-art artificial intelligence technology Bring out the essence of true selfie photography with Nature Portrait mode. and a 44-megapixel autofocus front camera
Vivo V23e 5G comes with a 44MP Ultra HD front camera, supports autofocus, AF with natural portrait mode. Eye Focus Technology and a variety of portrait modes Under a slim design, there is also a rear camera, night mode for detailed and high definition images. Suitable for shooting even in complete darkness. Including additional features such as 44W fast charging technology and Extended RAM technology to expand the usage area to the fullest. ready to provide the ultimate user experience that is smoother than ever
The 44MP front-facing camera is designed to reflect natural clarity.
Vivo V23e 5G, a smartphone that meets the needs of users who are constantly looking for a better selfie experience. Especially when shooting portraits with aesthetic aesthetics. and natural clarity This smartphone combines the cutting-edge front-facing camera system from Vivo with state-of-the-art technology.
Such as auto focus and night portrait features for photos and videos that look good from every angle, along with support for AI Extreme Night, where the front camera is a combination of multiple frames. to reduce noise and AI algorithms to correct facial characteristics in portraits It helps to take a selfie at night to preserve the details of the image better as it is taken during the day.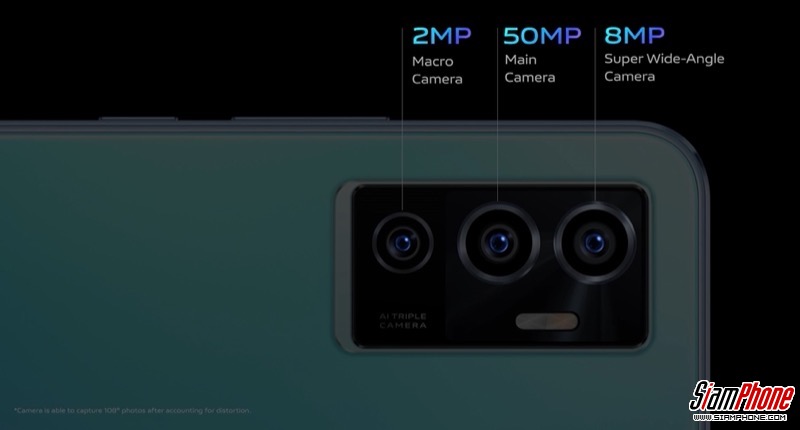 In addition, there is also a Dual-View Video 3.0 feature that can record both the front and rear cameras at the same time without interruption, like a professional director. Suitable for shooting video stories from various angles, and the Steadiface Selfie Video feature helps to focus on faces clearly. with powerful algorithm technology Helps to lock the focus on the face for stable images as if using a tripod. which is a good help for those who love vlog photography.
In addition, the newly upgraded Double Exposure mode allows background photos to be imported into overlays with other images. to create a unique image that perfectly expresses the style of the user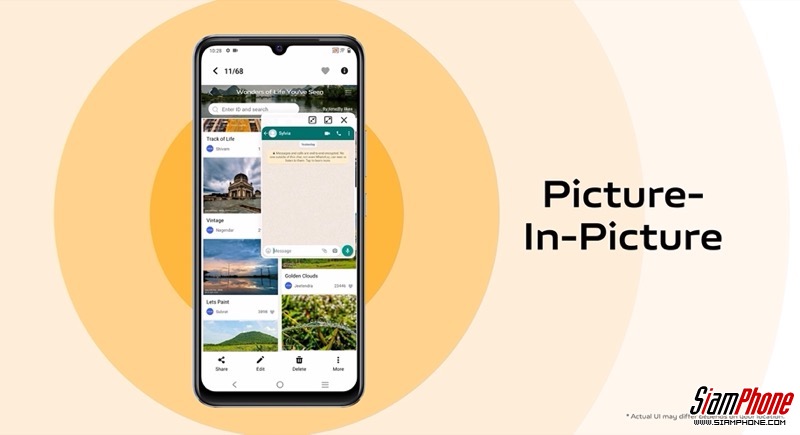 Design of luxury that comes in a compact size.
This model of Vivo V23e 5G is made from leading technology. Satin AG glass surface gives a luxurious touch. Comes with a device that is only 7.36 millimeters thin, weighs 172 grams, but is strong and durable. And it's easy to carry with you anywhere, anytime. Experience a minimalist design with a new design and manufacturing innovation. The 2.5D smooth edges are superbly coated. The translucent metallic luster gives the surface a dimensional look. luxury
Integrate hardware and software The new look can flow smoothly.
At the heart of the Vivo V23e 5G smartphone is the MediaTek Dimensity 810 chipset, which uses leading 6nm technology. It also supports dual mode 5G network signal, both SA and NSA support 5G+5G dual SIM standby at the same time. Able to switch network usage smoothly With a 360-degree omnidirectional antenna design, experience fast data transmission over the network. and excellent signal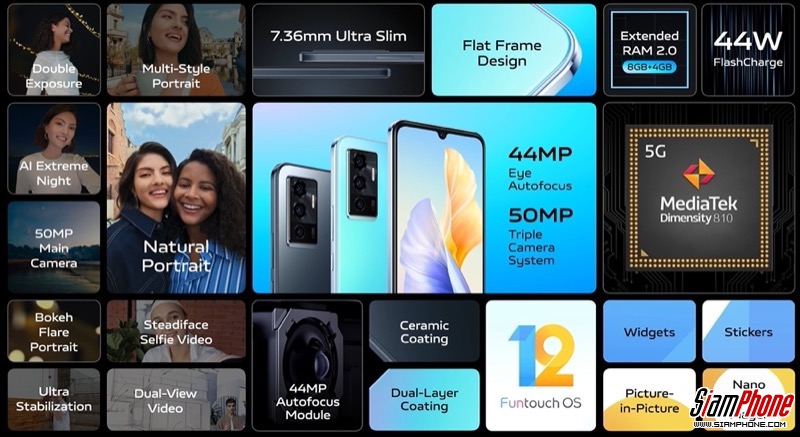 Recently, Vivo has collaborated on research and development of 5G SA technology with network operators such as AIS and True, enabling all Vivo smartphones that support 5G SA that are currently available in all models, including the Vivo V23e 5G, able to support and use. 5G signals can cover both 700 MHz and 2600 MHz frequencies on both AIS and True networks.
Vivo V23e 5G comes with 8GB + 4GB RAM with Extended RAM 2.0, allowing 4GB of memory to be used as RAM whenever needed. So users can enjoy a smooth experience anytime, anywhere. Even when switching between multiple applications, it is also guaranteed by Hi-Res Certification. High-Resolution Audio Quality Guaranteed It's also a hallmark for the ultimate audio experience.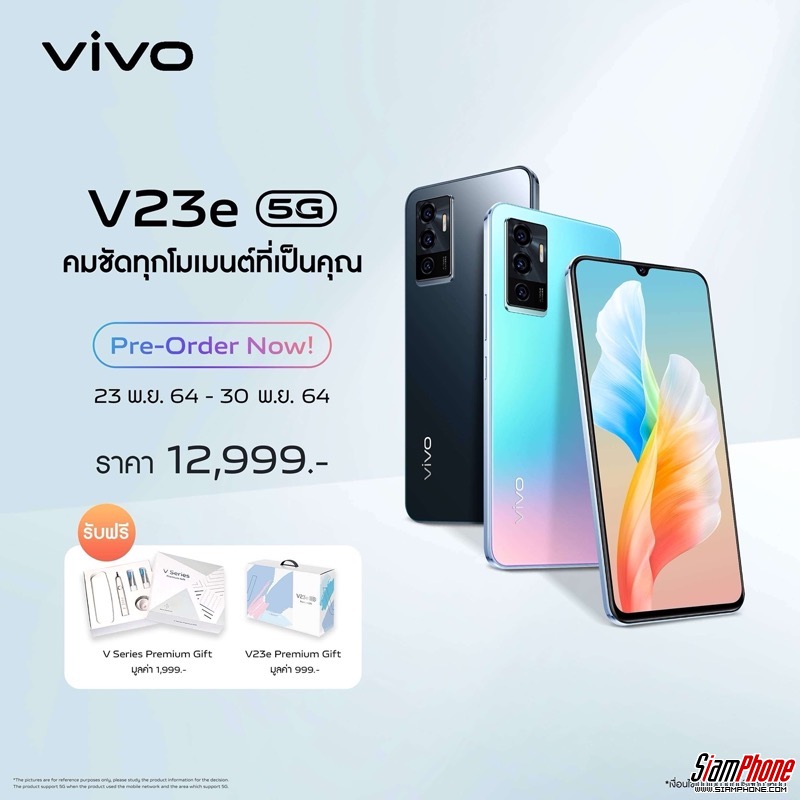 Vivo V23e 5G officially launched at a price of 12,999 baht, available in two new colors: Sunshine Coast and Moonlight Shadow, can be pre-ordered now. From today – November 30, 2021, including network operators and dealers across the country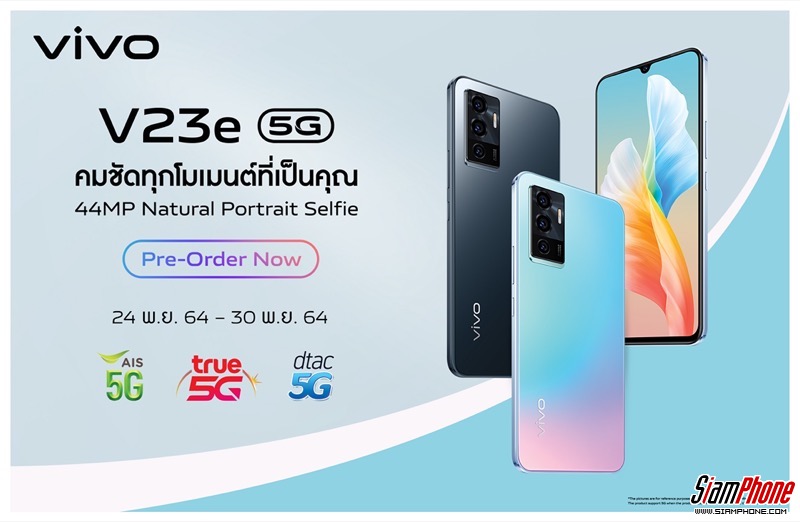 Great deals! Book today – November 30, 2021, get free immediately! V Series Premium Gift worth 1,999 baht and V23e Premium Gift worth 999 baht (total value over 2,998 baht)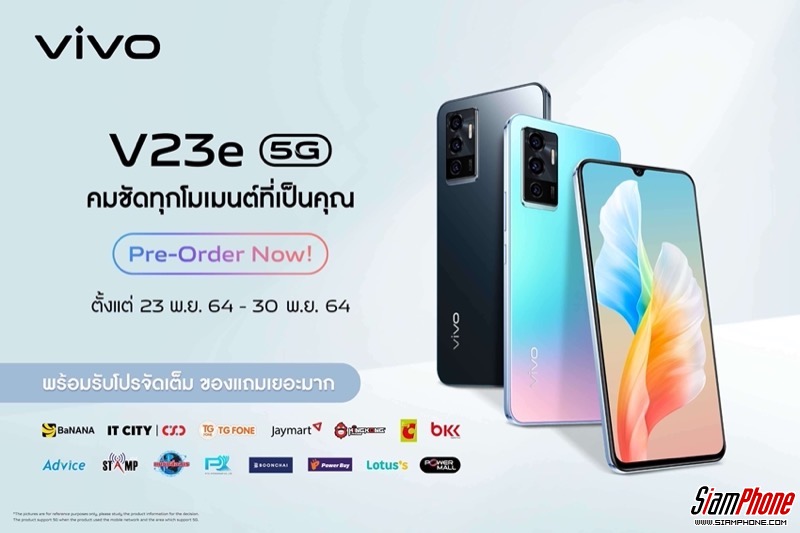 and Vivo V23e 5G will be officially released on December 1, 2021 at the Vivo Brand Shop and dealers across the country. More details can be found on the website. www.vivo.com/th
Related articles
.