Step-by-step recovery plan for daily life © News1 Designer Lee Ji-won
Coexistence with the COVID-19 virus begins on the 1st. The first button for 'step-by-step daily recovery', so-called 'with Corona', was put in.
Originally, it was planned to start with Corona at 0 o'clock on the same day, but it was delayed to 5 a.m. for fear that it would overlap with Halloween and put a burden on quarantine.
According to the Korea Centers for Disease Control and Prevention (KCDC) on the 1st, business hours restrictions for multi-use facilities such as restaurants and cafes will be completely lifted from this day on, except for entertainment facilities. In addition, high-risk facilities such as entertainment facilities, karaoke rooms, and gyms will be introduced to the 'Quarantine Pass (certification of vaccination completion/PCR voice verification)'.
Private meetings are possible for up to 10 people in the metropolitan area and 12 people in non-metropolitan areas, regardless of vaccination history. The mandatory wearing of a mask remains the same. However, only restaurants and cafes can gather up to 4 people who have not been vaccinated. In other words, when using restaurants and cafes, up to 4 unvaccinated people and 6 people who have completed vaccination in the metropolitan area can gather, and 4 people who have not been vaccinated and up to 8 people who have completed inoculation in non-metropolitan areas can use it.
Entertainment facilities such as Danran pubs are limited to operating hours until 12 pm. In the case of private academies, the restrictions imposed from November 22, right after the entrance exam, until 10 pm are lifted. Kindergartens, elementary, middle, and high schools will also be able to return to school from the 22nd.
Local festivals, public hearings, retreats, weddings, funerals, first birthday parties, etc. events and assemblies can be held with fewer than 100 people, regardless of those who are vaccinated or not. If only those who have completed vaccination, etc., participate, fewer than 500 people are allowed. Weddings, where up to 250 people can attend (up to 49 unvaccinated, at least 201 inoculated), will recognize the existing rules until the first stage of With Corona.
Events such as non-regular concert halls, sports competitions, and festivals with more than 500 people will be pilot operated after approval by the competent ministries and local governments, and the follow-up impact will be evaluated.
In movie theaters, concert halls, and sports venues, only those who have been vaccinated can eat and drink. Only 50% of the indoor and outdoor capacity for sports events can be admitted, but 100% of those who have completed inoculation can enter.
The easing of quarantine will be carried out in the order of △ easing restrictions on the operation of livelihood facilities in the first stage, △ allowing large-scale events in the second stage, and △ lifting the restrictions on private gatherings in the third stage.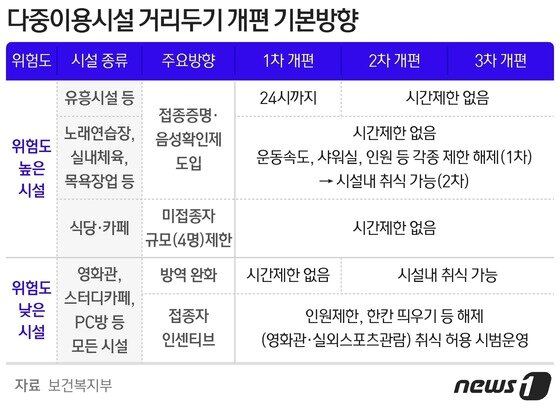 © News1 Designer Sooah Choi
In some high-risk multi-use facilities and infection-vulnerable facilities, the 'Quarantine Pass (certificate of completion of inoculation, PCR negative confirmation)' is implemented so that only those who have completed inoculation and some exceptions can use it.
Applicable facilities include entertainment facilities, singing practice centers, bathhouses, indoor sports facilities, high-risk multi-use facilities such as horse racing, bicycle racing, horse racing, and casinos, as well as medical institutions, nursing hospitals and facilities, facilities for the severely disabled and dementia, senior centers and senior welfare centers, etc. This includes facilities vulnerable to infection, such as facilities used and visited.
This corresponds to about 130,000 out of 2.09 million multi-use facilities. However, medical institutions, nursing hospitals and facilities among the infection-prone facilities are only applicable to inpatients or facility residents, and outpatients at medical institutions can use the facilities without a certificate.
It is recommended to use an electronic certificate such as the COOV app for the certificate of completion of vaccination, and the use of a paper certificate or vaccination sticker is also recommended. Among those who have not been vaccinated, those with a negative PCR (gene amplification) test, children and adolescents under the age of 18, those who have recovered, and those who are excluded from vaccination due to medical reasons are eligible for the quarantine pass exception.
The negative confirmation is effective until midnight on the 48th day (the end of the validity period) from the time the negative result is notified. If you are not vaccinated and replace it with a negative PCR test, you can prove this by issuing a negative confirmation text message or PCR negative confirmation.
The quarantine pass has a one-week training period from the 1st to the 7th to prevent confusion on the spot. Indoor sports facilities have a training period of 2 weeks (from 1 to 14 days) to minimize confusion, such as the issue of refunds for tickets for non-vaccinated people. The government plans to punish forgery, falsification, and illegal use of inoculation certificates, as well as negligence in checking the applicable facilities, in accordance with relevant laws and regulations.
Meanwhile, in relation to Halloween Day, the government and local governments are planning to conduct a 'joint tour enforcement' centered on areas where foreigners are concentrated and areas visited by many people until the 2nd.
Jeon Hae-cheol, the second deputy head of the Central Disaster and Safety Countermeasure Headquarters (Central Headquarters), said in a remarks at the major headquarters meeting the day before (October 31), "There is a high possibility that the number of confirmed cases will increase with Halloween Day." The increase in risk factors for infection, such as the expansion of personal contact, the increase in private gatherings during the year-end and New Year holidays, and the closed environment in winter, are also areas of concern."