On the afternoon of the 24th at Gyeyang Gymnasium in Incheon, Dodram 2020-2021 V-League Women's Playoff 3rd round match between Heungkuk Life Pink Spiders and IBK Industrial Bank Altos with a set score 3-0. are sharing 2021.3.24/News1 © News1 Reporter Jinhwan Kim
The women's professional volleyball leaders welcomed Kim Yeon-kyung (34, Heungkuk Life Insurance), who returned to the V-League after a year. She said she hopes it will have a positive effect on women's volleyball, which is feared for a downturn.
Heungkuk Life Insurance announced on the 21st that "I signed a contract with Kim Yeon-kyung on the condition of a one-year total of 700 million won (an annual salary of 450 million won and an option 250 million won), which is the best treatment for the women's professional volleyball team."
Kim Yeon-kyung, who left for Shanghai, China after taking the runners-up in the championship match with Heungkuk Life Insurance in the 2020-21 season, is wearing a pink uniform again after a year.
On the 23rd, the leaders who attended the 2022 invitational technical seminar for excellent overseas volleyball leaders held at the Stanford Hotel in Mapo-gu, Seoul, viewed Kim Yeon-kyung's move to the V-League positively.
Koh Hee-jin, manager of KGC Ginseng Corporation, said, "The overall women's volleyball world is positive.
Women's volleyball made a legend in the quarterfinals at last year's Tokyo Olympics, but after Kim Yeon-kyung and Yang Hyo-jin (Hyundai E&C) retired from the national team, they are experiencing difficulties in the process of generation change. The women's national team, led by coach Cesar Hernandez, remains at the bottom of the 16 teams with 8 losses until the second week of the 2022 Volleyball Nations League (VNL).
KBS N commentator Han Yu-mi also predicted that Kim Yeon-kyung's return would be a great help to women's volleyball, which has been stagnant due to sluggish international competition.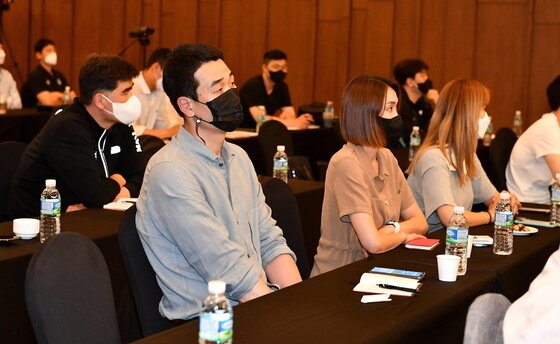 Koh Hee-jin, director of KGC Ginseng Corporation, who attended the technical seminar invited by excellent overseas volleyball leaders on the 23rd (provided by the Korea Volleyball Federation) © News1
One member said, "It is good news that a big player is coming to Korea in a situation where the recent international competition results are not good." He said, "If Hyundai E&C took the lead last season, Kim Yeon-kyung, Yelena Mrazenovic (Bosnia), and Kim Mi-yeon's success Life will become the antagonist and it will be more interesting."
Korea Expressway Corporation coach Lee Hyo-hee said, "(Kim Yeon-kyung's return) is positive for the V-League," but added caution.
Coach Lee said, "It's good news, but Heungkuk Life's power has become too strong. If Yeon-kyung Kim stands on both wings with Yelena, it will not be easy for the opposing team to block it."
He added, "If young setters give more support, Kim Yeon-kyung's joining will create good synergy."
Hyung-Sung Kang, manager of Hyundai E&C, who dominated with 28-3 last year, welcomed Kim Yeon-kyung's return to the V-League, but did not talk about the prospects for the upcoming season. Director Kang laughed, saying, "Director Kwon Soon-chan (Heungkuk Life Insurance) received a very big gift."
Meanwhile, Kim Yeon-kyung, who is currently in individual training, will join the Heungkuk Life team training in early July.
Kim Yeon-kyung is expected to have a comeback match through the 'Summer Match', an evaluation match between women's volleyball teams that will be held in Homcheon, Gangwon-do, from the 7th of next month. Four teams from Korea Expressway Corporation, GS Caltex, KGC Ginseng Corporation, and Heungkuk Life Insurance will participate in the summer match.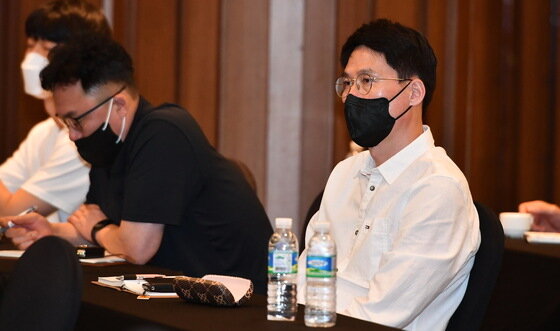 On the 23rd, coach Seong-hyeon Kang attended a technical seminar inviting excellent volleyball leaders from overseas (provided by the Korea Volleyball Federation) © News1
alexei@news1.kr