On the 21st, the day before the Lunar New Year, a farmhouse in Yongzhou, Hunan Province, China.
A woman picks up a stick from the wall and swings it at an old man sitting in a chair.
The old man, who was trying to stop the stick by extending his arm, fell off the chair and sat on the floor, while the man watching from the side kicked the old man and left.
The people who appear in the video are a mother-in-law, a daughter-in-law, and an 83-year-old son.
A person who identified himself as the grandson of a self-avoiding grandmother posted a video titled " on Weibo, a Chinese social media website.
The publisher of the video introduced, "It happens while I was away from home to start firecrackers the night before the Lunar New Year's Day." "The criminal is my father's third wife."
He continued, "My stepmother asked the grandmother she lived with to leave the house, and she continued to point and curse at the grandmother who had been kicked out of the house. Then she picked up a stick that had been built on the wall and hit her." fell," he explained.
He also said, "My father, who is 10 years older than my stepmother, does not have the right to speak, so I do what my stepmother tells me to do."
He added, "The grandmother had blood on her head and was in hospital after having about 10 stitches, but her health is not improving."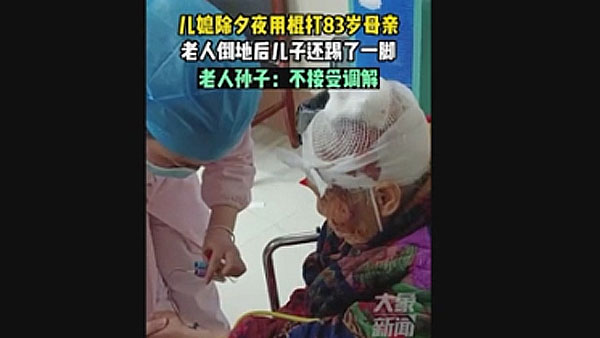 Netizens lamented, "The Lunar New Year Festival, where the whole family gathers and spends harmonious time, has become a nightmare for the elderly. The emotional wound of being abandoned by their children will be more than' the physical pain," or "The virtue of respecting the elderly has long since disappeared." and demands severe punishment for the son and his wife.