[영상 출처: 로이터]
"Women, Life, Freedom!"
The match between Iran and the United States was held in Qatar on the 29th local time.
After the match, Qatar World Cup security guards subdued Iranian soccer fans, Reuters reported.
Reuters released the video and explained that a man was grabbed by security officers and pushed to the ground while shouting "Women, Life, Freedom," which is also a slogan for anti-government protests in Iran.
Witnesses said the man was not aggressive.
The witness, an Iranian who said he lives in the UK, said, "The abducted man held a shirt with the slogan 'Women, Life, Freedom' written on it and shouted 'Women, Life, Freedom'."
"The same thing is happening in Iran, where people are not allowed to have basic rights or to express themselves," he added.
Reuters said it had reached out to Qatar's World Cup organizing committee for comment on the incident, but did not receive a response.
Even in the World Cup, "Freedom to Iran!"
In September, 22-year-old Mahsa Amini died suddenly after being arrested by the police for not wearing the hijab properly, and anti-government protests have continued for three months in Iran.
Even at the Qatar World Cup, there are appearances of solidarity with anti-government protests.
At this match, Iranian football fans and those who protested in solidarity were also caught wearing T-shirts with 'Mahsa Amini', 'Women, Life, Freedom' and '22' written on them.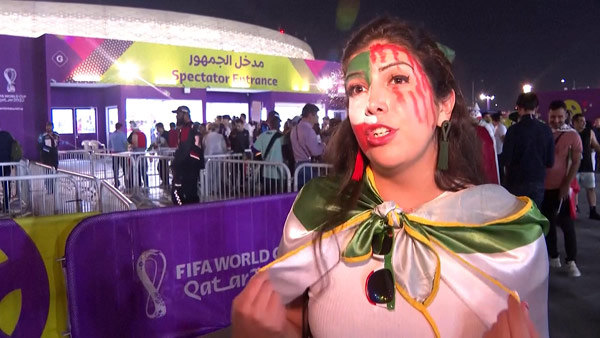 The Associated Press also reported an interview with an Iranian soccer fan and activist who appeared at the stadium.
An Iranian flag was drawn on one side of the face, and blood was drawn on the other.
"This face is a clear sign that something is happening in Iran and that people are being killed and tortured every day. We must not forget about them while we are here and I want to be a voice for people Iran is Iran."