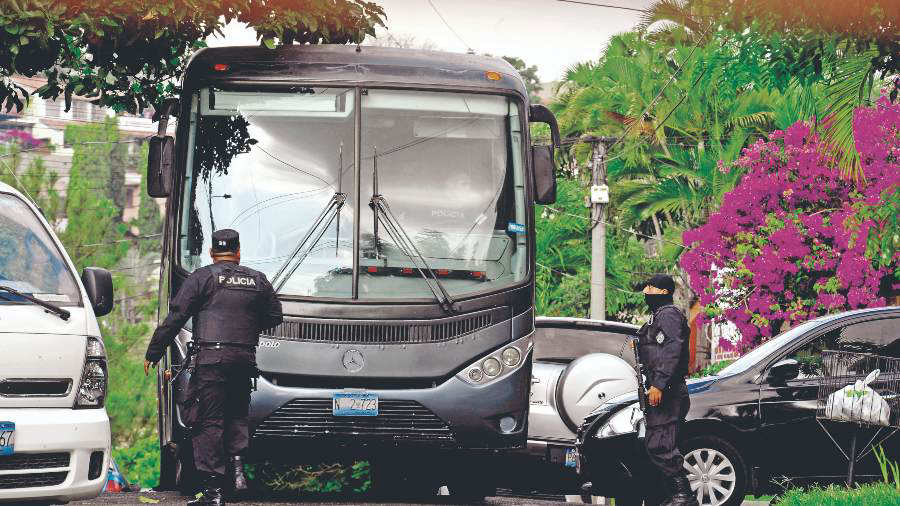 Nidia Díaz, of the FMLN, reported that their agents were brought to their home with police patrol cars
From early hours of this Saturday, agents of Protection of Important Personalities (PPI) They attended the call of their superiors to a meeting that took place at the facilities of the former GRP, in San Salvador. On Friday night, the police were notified that they would not provide security to the deputy owners and alternates of the Legislative Assembly.
The agents, mostly men, walked quickly and silently, avoiding being questioned by journalists.
"I come from Soyapango, and I didn't get to the meeting on time, and my colleagues didn't want to tell me anything, and since I was on a rest day I don't know what will happen on Monday, "said an agent, who preferred to omit her name, but is part of the safety of a deputy.
The situation became more uncertain when about nine o'clock in the morning two buses arrived from the Police Corporation to transfer the agents to another headquarters, because "there they no longer fit," said a policeman who guarded the access gate to the former GRP
The agent added that all that was known was that the procedure corresponded to a "staff re-concentration".
At about eleven in the morning, the officers left the police headquarters, and left. "They already dispatched us," an agent said briefly, as they had orders not to say anything.
Just at that same time, the buses were also removed.
In the afternoon, the deputy Martha Evelyn Batres, from ARENA, reported that the PPI assigned to his person told him that they had been allowed to go to their homes, but that they had not given them their weapons.
Deputy Reynaldo Cardoza, of the PCN, also confirmed that he had been notified that the agents would return to their duties.
Hectic day
While some like the US ambassador Ronald Johnson urged dialogue, others like the Defense Minister and the PNC say they are to "obey" Bukele.
I believe in the democratic spirit that lives in all Salvadorans and I am convinced that the best way to resolve conflicts is reasonable dialogue and mutual respect. We are with #The Savior.

– Ambassador Ronald Johnson (@USAmbSV) February 9, 2020
In compliance with our laws as mandated by the Constitution of the Republic, we support the President @nayibbukele in his just struggle to make our country the country we deserve.- #Now is when

– Mauricio Arriaza Chicas (@Director_PNC) February 9, 2020
What is the constitutional argument in this case?

In short, it is a legislative issue and the president @marioponcesv You will have to solve it.

Tomorrow they must arrive by constitutional mandate, before the convocation of the Council of Ministers. Art. 167, # 7 of the Constitution.

– Nayib Bukele (@nayibbukele) February 9, 2020
.