When the Seoul regulation area is released, there is a 'more bitter cold wave' in the provinces … One after another subscribe
In some unsold complexes, marketing such as discount sales and interest-free interim payments
(Seoul = Yonhap News) Reporter Kim Chi-yeon = Apartment complexes that have been sold since the beginning of the new year are receiving bad grades one after another in the subscription market.
As the cold wave in the subscription market continues despite the government's deregulation policy, some complexes are trying to solve the unsold stock by offering financial benefits such as discount sales and interest-free interim payments.
According to the Korea Real Estate Agency subscription home on the 29th, out of 11 complexes that applied for this month, only 3 complexes had a competition rate higher than 1 to 1.
Based on the first priority subscription, 'Seosan Haemi IA Edu Town' in Haemi-myeon, Seosan, Chungcheongnam-do, only request for 80 households in general supply.
17 people applied for 139 homes in Sungui-dong, Michuhol-gu, Incheon, and 20 bank books were received for 94 homes in Songdo Station Gyeongnam Honorsville, Yeonsu-gu, Incheon, recording a competition rate of 0.21 to 1 .
The situation is not much different. For Pyeongchon Centum First in Hogye-dong, Anyang-si, Gyeonggi-do, 257 people applied for 1,150 households, and the competition rate was only 0.22 to 1.
In Iksan, Jeollabuk-do, which recruited 727 households, 'Iksan Busong Desiang Private Participation Public Pre-sale Housing Type' showed a competition rate of 0.17 to 1 with only 120 applications.
Hyundai E&C[000720]Ten people applied to recruit 478 homes for 'Hillstate Dongdaegu Central' in Dong-gu, Daegu, built by this project.
However, the two places, Block 1 and Block 2 'Changwon Lotte Castle Forest', attracted 13,000 people to recruit 461 households and 491 households, respectively, and closed the subscription in the first place with a competition rate of 28:1.
It is interpreted that Changwon reflects the fact that there is a demand for housing due to the abundance of jobs, and that there are not many new apartment complexes and that the sales price is lower than the prices of neighboring complexes.
The problem is that the cold wave in the subscription market, which has continued since the second half of last year, may become more serious this year, especially in the states.
As the government lifted all parts of Seoul from controlled areas except for four areas (Gangnam, Seocho, Songpa, and Yongsan) on the 3rd, the possibility of box office subscription success increased in popular areas, but other areas were set on the same areas that do not apply. -a regulated field, increasing competitiveness There are concerns that it could weaken.
Kim Woong-sik, a researcher at Real Today, said, "In the metropolitan area, various regulations have been released as a result of the 1st and 3rd measures, so if the pre-sale price is reasonable, it is expected that many subscribers can collect." There is no change in the countermeasures, so it seems difficult to raise from last year."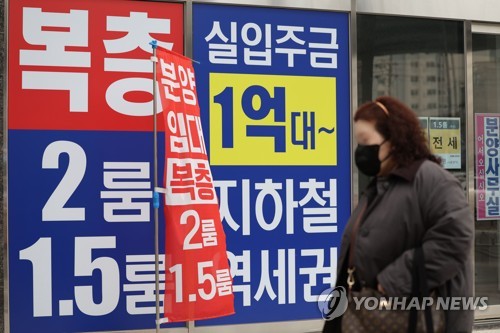 Now that the situation has come to this, some complexes are already working hard to find a solution, such as financial support, to solve the unsold stock.
In Daegu, where long unsold complexes have been piling up since last year as supply poured in, complexes offering 'discount sales' have been organized.
'Duryu Star Hills' in Naedang-dong, Seo-gu, Daegu started selling at a discounted price last October, with only 64 people subscribing to 195 homes. This complex offers a 10% discount from the current pre-sale price, full interest-free assistance for interim payments, and 4 million in congratulatory money and air purifiers were won only for the first contracts to' the mill.
'Sijira On Private' in Suseong-gu, Daegu also promotes benefits worth 85 million won, including 70 million won in housing subsidy, interest-free interim payment, and free installation of 4 system air conditioners.
'ePyeonhansesang Heyri' in Paju City, 'Eumseong Xi Central City' in Eumseong-gun, Chungcheongbuk-do, and 'Geojehan Shindeuhyu' in Geoje-si, Gyeongsangnam-do also provide full interest-free support for interim payments.
Seoul is no exception.
'Cheonwang Moa Elga Treview Station' in Oryu-dong, Guro-gu, Seoul, where unsold sales came out due to the pre-sale price set higher than neighboring complexes, provides cash support of 30 million won , interest-free interim. payment, free balcony extension, interest-free loan of up to 50 million earned for down payment, etc. Even if you cancel, your deposit will be refunded.
Experts are concerned that the number of unsold units will increase in the future, while predicting that the situation for small and medium construction companies will become more difficult.
Yoon Ji-hae, senior researcher at Real Estate R114, said, "More and more, callers will choose complexes that have clear advantages over existing complexes as well as competitiveness in pre-sale prices." It's very likely not possible," he said.
chic@yna.co.kr
(End)