US President Biden earlier announced the framework of a US$1.75 trillion social expenditure plan. US stocks opened higher on Thursday (28th). Before the deadline, the Dow Jones Industrial Average rose more than 180 points or 0.5%, the Nasdaq Composite Index rose 0.4%, the S&P 500 Index rose 0.5%, and the Philadelphia Semiconductor Index rose 1.6%%.
Due to the Delta epidemic and supply chain issues dragging down consumer spending, the United States announced the third quarter GDP quarterly growth rate of 2%, which was lower than the 2.6% consensus analysts had expected. The economic growth rate was at a record low in more than one year. At the same time, the United States reported 281,000 initial unemployment benefits last week, which was better than expected and hit a new low after the outbreak.
In addition to economic data, the market continues to digest corporate earnings news.
Caterpillar (CAT-US) announced a decline in Q3 revenue, but its profit performance was better than expected, rising by more than 2% at the opening; Ford (F-US) soared 10% at the opening, although chip shortages dragged down the profit, Ford's Q3 earnings report is still better than market expectations, and it has raised its full-year profit outlook and resumed dividends; Mastercard (MA-US) Q3 cross-border transaction volume increased by more than 50%, and the surge in overseas credit card spending has increased revenue. The opening rose more than 1%.
With the heavyweight technology stocks earnings week coming to an end, Amazon (AMZN-US) and Apple (AAPL-US) will debut after the market. The two companies opened slightly down 0.1% and rose 1.2%, respectively.
In addition, US President Biden announced a $1.75 trillion social expenditure framework on Thursday, hoping to obtain the support of Democratic senators to smoothly advance the legislation.
As of 21 o'clock on Thursday (28th) Taipei time:
The Dow Jones Industrial Average rose by 181.84 points, or 0.51%, to 35672.53 points temporarily
The Nasdaq Composite Index rose 60.47 points, or 0.40%, to 15296.31 points temporarily
The S&P 500 Index rose 23.90 points, or 0.53%, to 4,575.58 points temporarily
Fees and a half rose by 53.41 points, or 1.59%, to 3,13.70 points temporarily
TSMC ADR rose 0.12% to $113.89 per share
The 10-year U.S. Treasury yield rose to 1.565%
New York Light Crude Oil fell 0.58% to US$82.18 per barrel
Brent crude oil fell 0.73% to US$83.96 per barrel
Gold rose 0.33% to $1804.80 per ounce
The dollar index fell to 93.63
Focus stocks:
Comcast (CMCSA-US) fell 4.53% in early trading to $50.06.
Benefited from the growth of Internet bandwidth users and the recovery of its global theme parks, the US cable television giant Comcast announced that its third-quarter revenue exceeded 30 billion US dollars, and the adjusted EPS reported 87 cents, which were better than analysts' expectations. Road users were also higher than expected, with a net increase of 300,000.
Caterpillar (CAT-US) rose 2.01% in early trading to $200.04.
Caterpillar (Development Heavy Industries), a heavy-duty machinery and equipment manufacturer, announced a slight decline in its third-quarter revenue, but the adjusted EPS was reported at US$2.66, which was better than market estimates. Strong equipment demand from construction and mining helped offset raw materials and labor Rising costs.
Merck (MRK-US) rose 2.86% in early trading to $83.88.
Driven by cancer drug Keytruda and non-Covid-19 vaccine sales, Merck's third-quarter revenue and profit were better than expected, and the full-year profit outlook was raised. The full-year (Non-GAAP) net profit per share is expected to be US$5.65 To US$5.70, higher than the previously expected US$5.47 to US$5.57.
Today's key economic data:
The initial value of the quarterly growth rate of real GDP in the United States in Q3 is 2%, which is expected to be 2.5%, and the previous value is 6.7%
US Q3 core PCE quarterly growth rate initially reported 4.5%, previous value 6.1%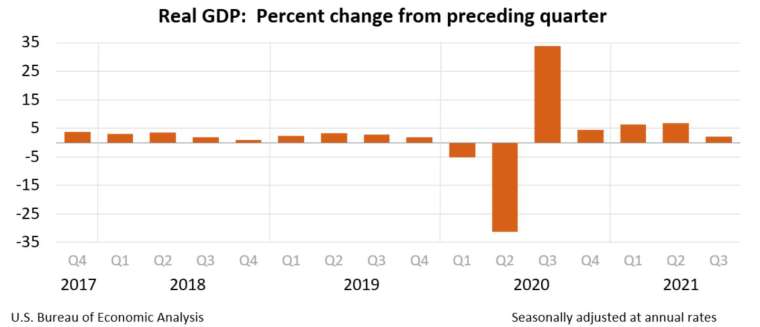 The United States reported 281,000 unemployment benefits last week (10/23), and it is expected to be 289,000. The previous value was raised from 290,000 to 291,000.
The United States reported 2.243 million unemployment benefits last week (10/16), and an expected 2.42 million. The previous value was lowered from 2.481 million to 2.48 million
Wall Street analysis:
Simona Mocuta, chief economist at State Street Global Advisors, said: "Recently some economic data has been weak. It's just that supply chain issues have delayed demand, not that demand has been disrupted. We believe that many households' savings are still gaining momentum. This will bode well for 2022."
According to Tom Essaye, founder of Sevens Report Research, the flattening of the yield curve has triggered market concerns about the Fed's rapid tightening of policies, which will affect economic expansion.
Edward Moya, senior market analyst at OANDA, said: "People are worried about the slowdown in economic growth, but the slowdown in growth last quarter was due to the Delta virus. Obviously, Delta is slowly losing its influence on the economy. There was a strong rebound."