US, China to strengthen 'subsidy discrimination'
In fact, it is much better to receive subsidies from Korea
Electric vehicles in the US and China are gaining dominance in the domestic market thanks to government subsidies. However, it is pointed out that there is an urgent need to respond to the discriminatory subsidy policies in the US and China that give preference to domestic electric vehicles.
The Korea Automobile Manufacturers Association (KAMA) announced on the 27th the report 'Comparison of electric vehicle import and export trends and electric vehicle subsidy policies between Korea, the United States, and China' and said that the electric vehicle trade deficit with the United States and China was worsening.
According to the report, imports of electric vehicles recorded 26,151 units until September of this year, exceeding the total annual imports of last year (22,206 units). Imports accounted for 43.5% of the electric passenger cars sold in Korea until September this year, and for electric buses, made in China accounted for 36%. As the number of imported electric vehicles increased, the electric vehicle trade deficit with the US reached $510 million, the highest among trading countries, and the trade deficit with China also recorded $18 million.
The association said, "As imports from China increased not only in finished cars but also in electric vehicle parts, auto parts trade with China turned to a deficit since last year." It will be unfolded or will be unfolded."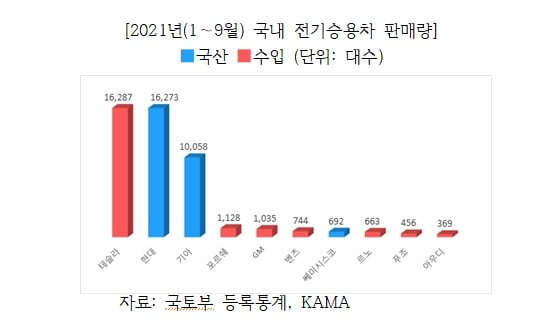 Photo = Korea Automobile Industry Association
In the case of China, it has been operating the 'Regulations on Industrial Standards for Power Cells for Vehicles', which is a regulation on subsidy payment for domestic-made batteries. The main point is that only electric vehicles equipped with Chinese batteries will be subsidized by the central government.
It was abolished in 2019 as criticism from the international community increased, but instead, it publishes a monthly 'New Energy Vehicle Recommendation List' that evaluates electric vehicles launched in the country and uses it for subsidy payment review. The reality of subsidizing only the method was changed, and the subsidy had to be installed with Chinese batteries continued.
Discrimination in local government subsidy policy is even more blatant. By implementing 'New Energy Vehicle Downward Activity Notification', an electric vehicle promotion program in rural areas, subsidies are being provided for local information only to selected local brand car models in China.
The United States has also begun to participate in 'electric vehicle discrimination'. Although the US currently provides subsidies in the form of tax credits for the purchase of electric vehicles, the recent tax benefit amendment proposed by the US House of Representatives provides additional subsidies to 'electric vehicles manufactured in US factories with labor unions' and 'electric vehicles equipped with US batteries'. content is included. If the amendment is implemented, it is expected that most foreign-invested companies, including Hyundai Motor, will face discrimination.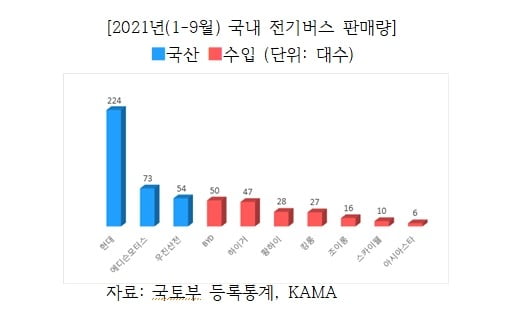 Photo = Korea Automobile Industry Association
The association said, "In our case, we are paying subsidies equally without discrimination between domestic and imported products. Our national tax has also resulted in fostering the Chinese electric vehicle industry," the association said. It has to be done," he emphasized. He added that if system reform is difficult, the two countries should also abolish discrimination between domestic and Korean electric vehicles based on the Korea-China-Korea-US free trade agreement (FTA).
"The trade deficit for electric vehicles in the United States, the largest exporter of Korean automobiles, has expanded, and not only finished automobiles but also parts have turned to deficits in China," said KAMA Chairman Jeong Man-ki. It will be inevitable."
"In order to strengthen the competitiveness of our electric vehicle industry, we are not only paying a purchase subsidy based on relativism, but also expanding tax credits for R&D and related facility investment for vehicles that directly compete with Chinese electric vehicles such as buses and trucks. Special support measures must be prepared," he said.
Oh Se-seong, reporter at Hankyung.com [email protected]