yunhap newsAs the novel coronavirus infection (COVID-19) spreads rapidly in Germany and the number of hospitalized patients increases, the medical system is also facing a crisis of overload.
As a result, German authorities are urgently taking action to further increase the vaccination completion rate, which has remained at 68%, including a plan to limit the activities of many unvaccinated people.
However, among experts, there are voices calling for stronger measures to reduce human-to-human contact while warning about bed saturation.
German experts are warning that the number of severe cases and deaths will rise as the number of COVID-19 infections continues to surge, according to Bloomberg, Associated Press, on the 19th (local time).
In some regions, intensive care units are already almost full, and the burden on the medical system is increasing.
As of the 19th, there are only 79 ICU beds in Berlin, which has a population of 3.8 million, and only 5 in Bremen, where there are 680,000 people. Amid this lack of beds, two critically ill patients were transferred to Italy from Bavaria last week.
There are 31,700 ICU beds across Germany, down 5,000 from the same period last year. In addition, the number of beds available today is less than half of what it was a year ago.
Under such circumstances, German Chancellor Angela Merkel and the governors of 16 states held an emergency meeting the day before and agreed on a plan to limit the activities of the majority of unvaccinated people to prevent the spread of COVID-19 and increase vaccination rates.
Accordingly, in areas where the hospitalization rate due to COVID-19 exceeds a certain level, only those who have received the COVID-19 vaccine and those who have recovered from COVID-19 will be able to go to restaurants, bars, gyms, sports and cultural events.
Most of Germany's states are covered. Such measures would have to go through a legislative process at the state or federal level.
"We are in the midst of a fourth wave and we have to deal with this dramatic situation and make the necessary conclusions," Merkel said.
Germany surpassed 60,000 daily new confirmed cases for the first time since the outbreak of COVID-19 the day before.
Merkel also said the federal government would consider requests from local governments to allow mandatory vaccination of senior citizens in nursing homes and hospitals.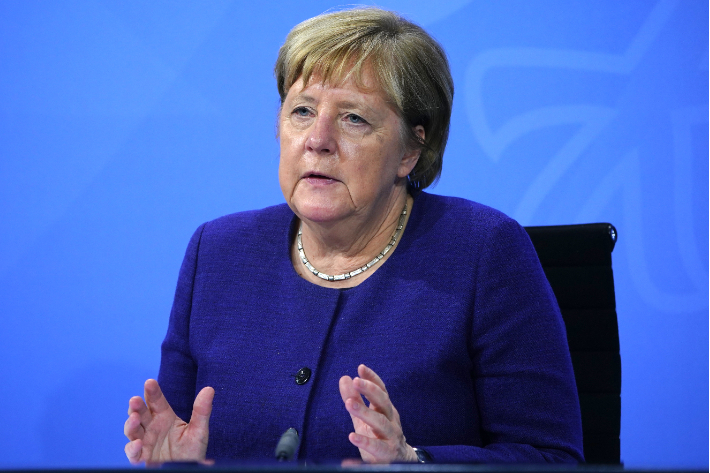 German Chancellor Merkel. yunhap newsGermany's Saxony, the country with the worst spread of COVID-19, is considering closing theaters and concert halls.
Separately, on the same day, the German House of Representatives passed a bill that would require people to prove that they have been vaccinated against COVID-19, recover, and test negative when going to work and using public transport, and reintroducing telecommuting. Such measures must also be approved by the Senate.
German immunology expert Michael Meyer Hermann said more severe social restrictions are needed, warning that many hospitals still able to handle patients will be saturated by the end of the month as the number of confirmed cases doubles every 12 days.
"The pandemic we are facing right now will not be stopped by vaccination," he warned, because it takes weeks for people to develop full immunity.
He suggested that other measures should be taken to reduce contact with people, such as closing pubs and clubs and limiting the number of people attending public events.
However, German authorities are still trying to avoid such intensive measures.