Chairman Lee Jae-yong chose the UAE as his first business trip after taking office
Visit the Barakah Nuclear Power Plant construction site… Employee Encouragement
He is expected to attend a high-level political and business meeting hosted by the President of the United Arab Emirates
"The Middle East, which is going through a great revolution, is a land of opportunity."
Jayong Lee
The chairman visited the Middle East on his first overseas business trip after taking office. He encouraged workers on the construction site and strengthened his resolve for future business, saying to take a bolder and more challenging step forward in the Middle East, which is 'the land of opportunity'.
In addition, although the detailed schedule has not been disclosed, following last year, he is expected to attend the private high-level meeting held annually by the President of the United Arab Emirates (UAE) this year. It is known that they chose the Middle East as their first overseas business trip for this meeting.
According to the industry on the 6th, Chairman Lee Jae-yong visited the construction site of the Barakah Nuclear Power Plant located in Al Dhafra, Abu Dhabi, United Arab Emirates. This is the first time in three years and three months that Chairman Lee has visited a business site in the Middle East since his visit to the Riyadh subway construction site during Chuseok in 2019.
The United Arab Emirates Barakah nuclear power plant that was visited this time is Korea's first overseas nuclear power plant construction project.
The 'Team Korea' consortium, which included Construction began in 2012 and the project has been underway for over 10 years, and so many executives and staff members stay in the local area for a long time and stay away from their families.
Chairman Lee checked the construction progress and listened to the wishes and decisions of executives and workers working at overseas construction sites. A meeting was also held with employees of the MZ generation (millennials + Z generation).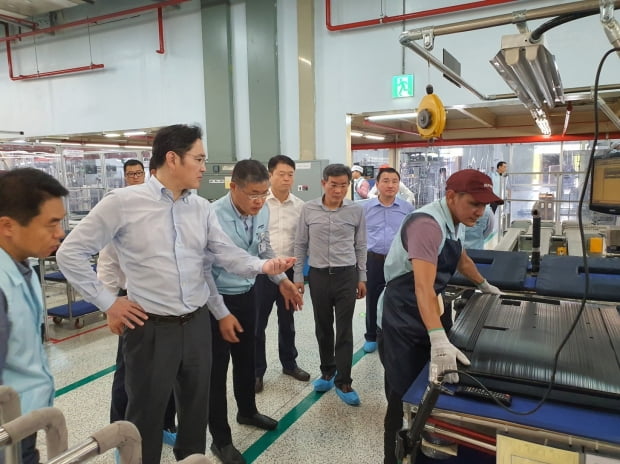 Before the visit to the Barakah Nuclear Power Plant, he met with the heads of the group's subsidiaries in the Middle East. Samsung C&T
·Meet with the heads of Samsung Electronics offices in the Middle East to receive reports on local business status and discuss medium to long term strategies.
At this meeting, Chairman Lee said, "The Middle East, which is pursuing a 'big change' to find a new engine of growth, is a land of opportunity."
In addition, they visited the Samsung Electronics store in Abu Dhabi to check product sales and customer responses.
Chairman Lee visits overseas sites for vacations every year to encourage and motivate executives and employees. On Chuseok in 2019, he visited a subway construction site in Riyadh, Saudi Arabia, and on Lunar New Year's Day in 2020, he visited Samsung Electronics factories in Manaus and Campinas, Brazil. On Chuseok in September this year, before taking office, he visited the construction sites of Samsung Electronics' Queretaro home appliance factory and Samsung Engineering's Dos Bocas oil refinery in Mexico to encourage workers.
Although the specific schedule has not been announced, it is expected that during this trip to the United Arab Emirates, he will attend the annual private meeting hosted by the President of the United Arab Emirates, Mohammed bin Zayed Al Nahyan.
At the end of each year, President Muhammad invites influential people in politics and business to hold a private social gathering. Former British Prime Minister Tony Blair, former French President Nicolas Sarkozy, and Saudi Crown Prince Mohammed bin Salman, who met Lee while on a visit to Korea last month, are said to have attended the meeting. Chairman Lee went on a business trip to the United Arab Emirates to attend this meeting last December.
Kim Eun-ji, Hankyung.com reporter [email protected]