CD Project Red's (CDPR) representative RPG masterpiece, 'The Witcher 3: Wild Hunt (hereafter referred to as The Witcher 3)' is about to release the next generation version, and a great gift was given to welcome Korean fans. It is news that Korean voices will be added to all voices in the game with the release of the corresponding version.
CDPR released the 'Killing Monsters' cinematic trailer of 'The Witcher 3' redecorated with Korean voice on the 30th, and announced the addition of voice support languages. Studio Musai, which was responsible for the Korean voice recordings for 'Cyberpunk 2077' and 'Gwent: The Witcher Card Game (hereafter referred to as Gwent)', took part in the voice dubbing. You will be able to meet your voice.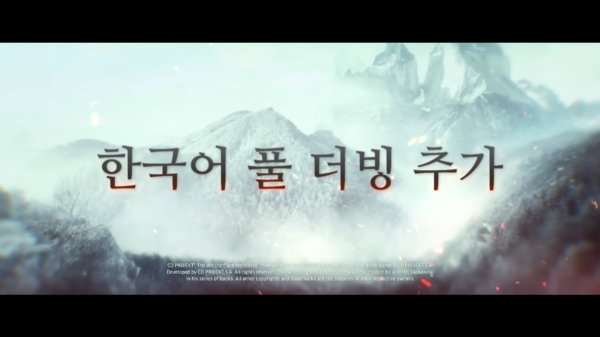 CDPR's detailed support for Korean fans has been known since the time of 'Cyberpunk 2077'. Representative examples include Seong Woo-jin's acting, which received favorable reviews for its excellent quality, as well as Korean characters and various elements placed throughout the game, as well as structures using Korean Internet memes.
'The Witcher 3' is also a masterpiece RPG that has been loved by domestic fans, so the news of adding Korean dubbing seems to be followed by many reactions.
Meanwhile, the next-generation version of 'The Witcher 3' will be officially released on the 14th through PS5, Xbox Series X / S, and PC, and free upgrades will be provided to existing game buyers. The Korean voice dubbing will be delivered piecemeal on all versions, including Nintendo Switch, on the same day.